El Tovar Hotel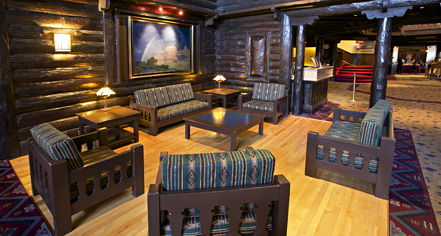 Accommodations
El Tovar Hotel has 78 guestrooms and suites. Standard rooms have one double, two doubles, one queen, or two queen beds. Deluxe rooms have either two queen beds or one king bed. Suites have a bedroom with either two queen or one king bed, and a sitting room. Some of the suites have a porch or balcony.
The following amenities are available at El Tovar:
Guestrooms with accessibility features
Cable television
Telephone, safe, mini-refrigerator
Full bath
Air-conditioning
Triple-sheet bedding
All non-smoking rooms
Complimentary self-parking
Concierge and room service
Fine dining and lounge
Gift store/curio shop
Rollaway beds (upon request)
Guests 16 and under stay free with a paying adult
The following amenities are available at the South Rim:
The Grand Canyon Walk-in Clinic for emergency medical and dental services
Bank/ATM
Bus service to and from the South Rim
Guided bus tours
Hiking trails
Fuel and garage services
Park Information Centers
Park shuttles: South Rim and Rim-to-Rim
Post office
Safe deposit boxes
For more information about El Tovar or to make reservations please visit grandcanyonlodges.com/el-tovar or call 1.888.29.PARKS (888.297.2757).