El Tovar Hotel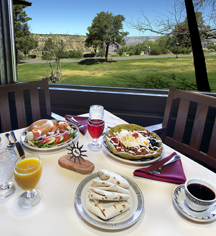 Dining
El Tovar's Dining Room and Lounge were built perpendicular to the rim and were constructed using native stone and Oregon pine, which features traditional decor and ambiance. Welcoming guests into a warm and relaxing environment, the inviting and rustic décor showcases a painting of the canyon crafted by artist Chris Jorgensen and murals by Native American artist Bruce Timeche.
Open year-round, El Tovar Dining Room can accommodate up to 211 guests; the Lounge can accommodate up to 60 guests. Window seats can be requested in either room, but are not reserved or guaranteed. Outdoor seating is also available on El Tovar's veranda, which serves drinks and appetizers. The dining room menu blends regional and classical flavors while utilizing contemporary techniques. El Tovar's Dining Room is considered the premier dining establishment at the Grand Canyon. Dinner reservations are required and can be made up to six months in advance for guests staying overnight at El Tovar, or up to 30 days in advance for anyone who is not staying overnight. Call 928.638.2631, ext. 6432.
For more information about El Tovar or to make reservations please visit grandcanyonlodges.com/el-tovar or call 1.888.29.PARKS (888.297.2757).