Fairmont Heritage Place, Ghirardelli Square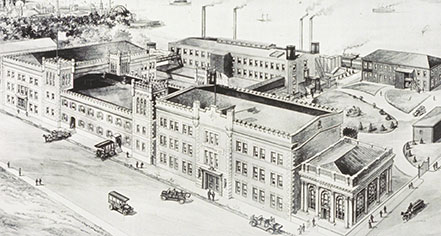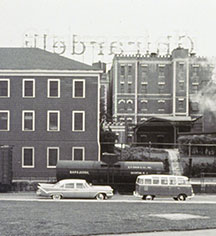 History
In 1817, Domenico Ghirardelli was born in Rapallo, Italy. At a young age, he apprenticed for a local candy maker and learned about the world of chocolate and confectionary trade.
At the ripe, young age of 20, he married his first wife and set sail to Uruguay to pursue a career in the "coffee and chocolate establishment." A year later, in 1938, Ghirardelli sailed around Cape Horn to Lima to pursue other opportunities. He set up his confectionery store next to a cabinet shop owned by an American named James Lick. In 1947, Lick left Lima to chase the American dream and took 600 pounds of Ghirardelli's chocolate with him. Ghirardelli continued to operate his store in Peru and decided to change his name to the Spanish equivalent, "Domingo."
By 1849, Ghirardelli caught wind of the gold rush in California and settled in the Jamestown-Sonora area as a prospector. He once again set up shop, this time a general store, in Stockton, California. As one of the first shops in the area, it was located in a tent. It offered supplies and confections to fellow gold miners. After several months, Ghirardelli opened a second store on the corner of Broadway and Battery in San Francisco and this became the first establishment in the city.
A series of tragic fires in 1851 burned down Ghirardelli's Battery Street store, as well as 1,500 other buildings. Ghirardelli moved his store around San Francisco a few times before settling in an entire city block known as Pioneer Woolen Mill in order to expand the headquarters of his growing Ghirardelli Chocolate Company. This city block is now known as Ghirardelli Square. In the early 1960s, the Golden Grain Macaroni Company bought the Ghirardelli Chocolate Company and relocated the whole facility across the bay in San Leandro. The Roth family purchased the Ghirardelli site in 1962 and restored most of the original brick structures and brought a host of specialty shops and fine restaurants.
Fairmont Heritage Place, Ghirardelli Square is the most recent addition to this iconic San Francisco attraction. This historic, landmark residence-style hotel offers guests the opportunity to experience the city's rich history and beauty from the comfort of this San Francisco property.

Fairmont Heritage Place, Ghirardelli Square, a member of Historic Hotels of America since 2016, dates back to 1893.