French Lick Springs Hotel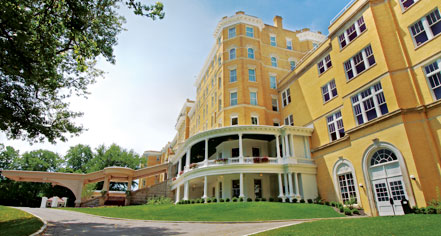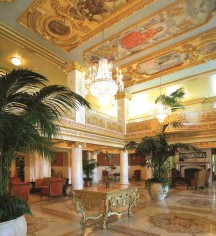 History
For hundreds of years, the lands of French Lick Springs belonged to the Native Americans and the animals that inhabited the area. The Natives believed the mineral springs were a gift from The Great Spirit and uncolonized, they were free to hunt, roam and live as they pleased.
Once the French began to settle in the area, they thought the salt from the mineral springs might be used for manufacturing. Upon closer inspection, this was not to be the case. However, a doctor who went by the name of William A. Bowles, purchased the land and built the first hotel in 1845. Bowles was a cunning business man as health spas were booming in popularity and the site was easily accessible by rail.
In the early 1900s, management underwent a change and a man by the name of Thomas Taggart brought the mineral spa water, known as Pluto Water, to international prominence. French Lick and its Pluto Water were topics of discussion at the 1903 Annual Indiana State Medical Society session. Pluto Water was touted to have curative and restorative properties, it was hailed to cure ailments from alcoholism, gastric function, gout, and even rheumatism.
Pluto Water was bottled and shipped all over the world with the slogan, "If Nature Won't, Pluto Will."
The rich and famous would vacation at the French Lick Springs Hotel for extended periods of time. In between Louisville and Indianapolis, luminaries and the social elite would take a train to the Kentucky Derby and then stay until the Indianapolis 500.
Taggart fancied himself a family man first, a hotel man second, and a political lobbyist third. He served three terms as mayor of Indianapolis and briefly as a U.S. Senator. It was through these channels that the French Lick Springs Resort found itself the unofficial headquarters of the Democratic Party.
It was in this very hotel that Franklin D. Roosevelt rounded up support at a Democratic Governor's Conference for the party's presidential nomination.
Today, French Lick Springs Resort rests on 2,600 acres in the breathtaking Hoosier National Forest and is part of the $382 million restoration and expansion that has created French Lick Resort Casino.

French Lick Springs Hotel, a member of Historic Hotels of America since 2000, dates back to 1845.
*****
Guest Historian Series
Read more about the history of French Lick Springs Hotel, as told by Historic Hotels of America 2014 and 2015 Historian of the Year Stanley Turkel. Excerpt is taken from his latest book Built to Last: 100+ Year-Old Hotels East of the Mississippi (AuthorHouse 2013).