General Morgan Inn & Conference Center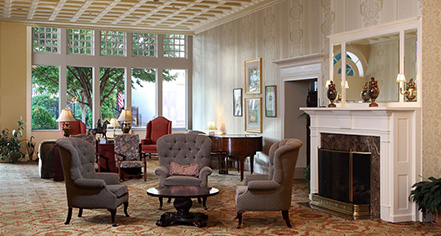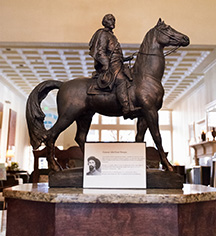 History
The first building to stand on what is today the General Morgan Inn was the De Woody Tavern, a wooden structure erected in the late 1790s. Heavily patronized by local residents, it also provided overnight accommodations for travelers passing through Greeneville. From the late 1820s to the 1860s, the establishment was known as Bell Tavern. Joshua Lane operated the tavern during the Civil War, when it was better known as the Lane House.
Early on the morning of September 4, 1864, Joshua's wife, a Union sympathizer, reportedly spotted Confederate General John Hunt Morgan as he tried to escape Union soldiers and pointed out his hiding place. During the ensuing gun battle, the colorful Kentucky Calvary officer, popularly known as the "Thunderbolt of the Confederacy," was shot and killed not far from the rear of the tavern. In the 1880s the De Woody Tavern was purchased by Colonel John H. Doughty, who built the three-story Doughty-Stevens building (located across Main Street from the inn) in the late 1880s.
Colonel Doughty, recognizing the need for an excellent hotel to accommodate the many railroad travelers, demolished the original De Woody tavern and began construction of a new four-story brick structure that would become the historic 60-room Grand Central Hotel, its facade adorned with marble belt courses at each floor. Within a few short years, four railroad hotels, all connected at the second-floor level with a bridge across an alleyway, had sprung up.
In 1920, Mrs. E.J. Brumley purchased the hotel and began full operation of the newly renamed Hotel Brumley. In 1948, Judd Brumley opened "The General Morgan Room," a supper-club style private dining area adjacent to the main dining room on the first floor. The General Morgan Room was an instant success and quickly became the region's most popular and prestigious location for formal affairs.
The Hotel Brumley ceased operation in May 1981. For many years the historic building sat vacant. After nine years of planning and fund-raising, the restored General Morgan Inn and Conference Center opened for business in September 1996.

General Morgan Inn & Conference Center, a member of Historic Hotels of America since 2002, dates back to 1884.
*****
Guest Historian Series
Read more about the history of General Morgan Inn & Conference Center, as told by Historic Hotels of America 2014 and 2015 Historian of the Year Stanley Turkel. Excerpt is taken from his latest book Built to Last: 100+ Year-Old Hotels East of the Mississippi (AuthorHouse 2013).