Hawthorne Hotel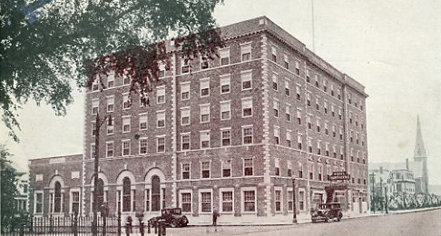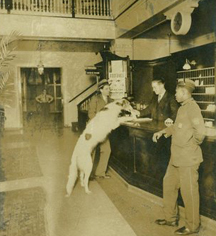 History
In the 1920s, the business community of Salem, Massachusetts embarked on a journey to build "Salem's own hotel … to meet the particular needs of Salem, its guests, and visitors." Sylvania founder and North Shore native Frank Poor served as the President of the Salem Hotel Company and, together with the Salem Chamber of Commerce and the Salem Rotary, raised over $500,000 for the construction of the hotel though a public stock subscription.
The location chosen for the new hotel was Washington Square West, adjacent to the beautiful Salem Common at the head of the newly widened Hawthorne Boulevard. The site was near three buildings with connections to Nathaniel Hawthorne - the Mall Street home where he wrote the Scarlet Letter; the Herbert Street home where he grew up and began writing; and his birthplace on Union Street, which was later moved to the House of the Seven Gables complex. Also taken into consideration was the close proximity to the Peabody Museum, Essex Institute, House of the Seven Gables, and the downtown retail center.
In June 1925, during this final fundraising push, the hotel group raised an extra $10,000 needed by the Hawthorne Monument Association to obtain and move the statue of Nathaniel Hawthorne to Hawthorne Boulevard from its prior location at the Museum of Fine Arts in Boston. At this time, the name Hawthorne Hotel was suggested.
The hotel opened in July 1925. It had six floors and 150 rooms. The main lobby was two floors high with a mezzanine and balcony. In the 1950s, to meet the demand of the growing number of automobiles, the Hawthorne changed its name to the Hawthorne Motor Hotel. Over the years, in an effort to appear more modern, it covered the beautiful Palladian windows in the Grand Ballroom, replaced the second floor balcony with meeting space and enlarged many of the guestrooms. The hotel again changed its name, this time to the Hawthorne Inn, and didn't return to the Hawthorne Hotel until 1989.
Hawthorne Hotel, a member of Historic Hotels of America since 1991, dates back to 1925.