Hilton Chicago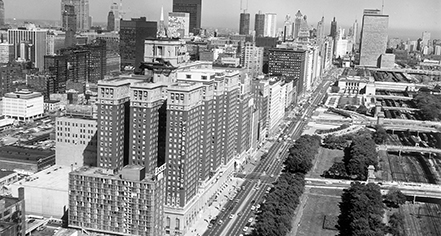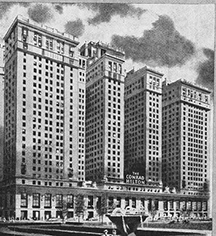 History
The Hilton Chicago, designed in Beaux-Arts architecture, opened its doors in 1927 as the Stevens Hotel and continues to fulfill the vision of its original founder and first namesake – to create an entirely self-sufficient city within a city, a place capable of offering the most extensive convention and conference facilities in a primary destination. Today, Hilton Chicago keeps the dream alive by maintaining the hotel's classic integrity with all the luxury conveniences the modern traveler has come to expect.
Explore the dynamic history of the Hilton Chicago.
1927 - The Stevens Hotel opened on Chicago's iconic Michigan Avenue by James W. Stevens and his son, Ernest Stevens. Designed by architectural firm Holabird & Roche, this Beaux-Arts marvel cost approximately $30,000,000 to construct. Its interiors were appointed with bronze and crystal chandeliers and featured original Frescoe style oil paintings on the ceilings, inviting a late-Renaissance quality. The first registered guest was Vice President Charles Dawes. At the time, the Stevens Hotel was the largest hotel in the world and was named a "City Within a City" for its impressive amenities, which included:
3,000 guestrooms
27 seat barber shop
5 lane bowling alley
18 hole rooftop golf course
Hospital with full ward and two operating rooms
Candy factory
Children's toy and clothing store
1,200-seat Theater with "talking motion picture equipment"
Ice Cream Shop
Floral Shop
Jewelry Store
Lending Library
24-hour Drug Store
1929 - Great Crash – Hotel falls on hard times for a decade - the Great Depression
• Halls stood silent. Rooms on several floors were converted into apartments for rent.
1942 - "Unit #1" – The U.S Army purchases Stevens Hotel for a mere $6 million to utilize as barracks and classrooms for the Army Air force during WWII. 10,000 air cadets were housed at the hotel, with 4 to a room.
1945 - Conrad Hilton purchases Chicago's Crown Jewels: The Palmer House and the Stevens Hotel.
Conrad Hilton's name jump-started the hotel's reputation as a world-class facility, luring movie stars, dignitaries, and politicians. Famous visitors included Benny Goodman, Guy Lombardo, Mary Martin, Ella Fitzgerald, Dean Martin, Nat King Cole, Bette Davis, Lauren Bacall, President Eisenhower, John F. Kennedy, and Queen Elizabeth II.
1951 - Hotel is renamed The Conrad Hilton Hotel. In April, crowds gathered in the Great Hall to hear Gen. Douglas MacArthur's famous speech defending his conduct of the War in Korea. The Great Hall was perpetually decorated and crowds were ever-present in the iconic venue to honor internationally famous guests, dignitaries, and heads of state throughout 1950-60.
1959 - The hotel hosted the largest dinner in the Guinness Book of World Records in 1959 – 7,200 people!
1960 - Conrad Hilton becomes largest hotel convention facilities in the world. Additions included the International Ballroom, automatic elevators, and 53,000 sq ft of more exhibit and meeting space.
1968 - "Battle of Michigan Avenue" – On August 28th, anti-war protesters gathered in Chicago in Grant and Lincoln Park where violence broke out between protesters, police, and media. At the time, Conrad Hilton Hotel housed the delegates of the Democratic National Convention. Protesters flooded into the Great Hall along with tear gas and "stink bombs" administered by police.
1984 - The hotel closed for one year to undergo "The Most Comprehensive Renewal Project in History" that cost $185,000,000. The project included:
Transforming 3,000 guestrooms into 1,544 larger rooms, including 518 guestrooms with two double beds and two bathrooms
Restoration of lobby, oil paintings, and marble details
Addition of a 510 spot parking garage, more restaurants, including Kitty O'Sheas, an athletic club with pool and fitness center, Executive Floors, and an art museum on the third floor
Conversion of the Rooftop Ballroom into The Conrad Suite, an elaborate two-story suite
1985 - Renovation is completed and the hotel is renamed The Chicago Hilton & Towers
2008 - Hilton Chicago houses 150 Olympians of the 2008 Summer Olympics who were scheduled to appear on the Oprah Winfrey Show, including Michael Phelps who stayed in the Imperial Suite.
On November 4th, President Obama gave his historic acceptance speech with 70,000 people in Grant Park, and an additional 500,000 people in the surrounding area. Guests at Hilton Chicago watched from their guestroom windows, celebrated in suites, and rallied in the lobby. Nine different national and international television stations filmed the event from the hotel rooftop. Hilton Chicago housed both Democratic and Republic Parties that evening.
Hilton Chicago held 8 from November 6, 2008 – Jan 3, 2009.
2011 - Hotel embarks on $150 million renovation to completely transform guest rooms, meeting space, and all hotel outlets.
Experience the distinct history of every inch of Hilton Chicago:
Lobby
Front Desk – Room rates in 1927 ranged from $3.50 to $10 for a single bedroom
Bell Desk – Hilton Chicago holds the Guinness World Record for the longest working bellman: 65 years! Sam Cascio. He once said "If I retire, I'm afraid I'll get old."
Elevator – Hotel has 6 sub basements where the giant boilers and chillers are that heat and cool the building. In the early days of the Stevens Hotel, underground rail road cars ran through 6B delivering coal and removing ash.
Elevator Landing – in the 1920's, registered guests encountered 9 employees from the time of check-in to arriving to their guestroom. Each floor had its own check-in station and staff.
Grand Ballroom
Original Structure from 1927
Completely free of pillars – architectural ingenuity at its time
Underground support pillars and trusses (240 tons each!) holding up 22 stories
Original chandeliers - fixtures made in France; crystal is Czechoslovakian
Very 1st Gala: Motion Picture Association Ball in 1927 - hosted 3,000 movie stars and friends.
In 1942, the Grand Ballroom used as Mess Hall for U.S Army Air force. The chandeliers were removed, and the center chandelier was never found when the room was later converted back into a ballroom. It's rumored to be in the White House.
Every U.S President has attended an Event in the Grand Ballroom
Captured in the film, The Fugitive.
In 2011, the ballroom hosted the welcome dinner for President Hu Jintao of China
Normandie Lounge
Similar to the Stevens Hotel, the French cruise-liner S.S. Normandie was repurposed for use by the U.S. Army during WWII and was renamed USS Lafayette.
In 1942, the ship caught fire at New York harbor and its parts were eventually auctioned off. The Stevens Hotel was one of the buyers and created Normandie Lounge. Original parts of the former French ship were incorporated into the lounge, including: chandeliers, pieces of the bars, some of the woodwork, and chairs.
The Normandie Lounge's creation sparked the beginning of the Stevens' piece by piece conversion from U.S army barracks back into a hotel.
Conrad Suite
In 1984, the original Rooftop Ballroom was converted into the Conrad Hilton Suite, the largest suite in the Midwest. It cost $1.6 million to construct and boasts 5,000 total sq ft. of space, occupying two floors (29th and 30th.) Overlooking Grant Park and Lake Michigan, the suite boasts a grand salon with fireplace, dining room for 14 people, library with pool table and bar, a private kitchen, 3 bedrooms with full bathrooms, private helipad, and spacious balcony.
The suite is President Bill Clinton's favorite place to stay in Chicago; he loved the pool table.
Other famous guests include: Prime ministers Tony Blair and Margaret Thatcher, King Carl Gustau of Sweden, Former Mexican President Vicente Fox, Premier of China, Bono, and John Travolta.
Several films and television shows have featured The Conrad Suite, including: The Fugitive, Home Alone 2, E.R., and Boss.
The suite underwent a $1.8 million renovated in early 2013.
Movies Filmed at Hilton Chicago
Fugitive – Last 25 minutes. Every square foot of the hotel was filmed
My Best Friend's Wedding
U.S Marshals
Home Alone II
Primal Fear
The Package
Unconditional Love
Love & Action in Chicago
Road to Perdition
The Express
Little Fockers
TV Shows Filmed at the Hilton Chicago
ER
Early Edition
Cupid
The Beast
Prison Break
The Chicago Code
Boss
Chicago Fire
Hidden City
House Hunters
Betrayal
Mind Games
Chicago P.D.
Crisis

Hilton Chicago, a member of Historic Hotels of America since 2015, dates back to 1927.