Hilton Cincinnati Netherland Plaza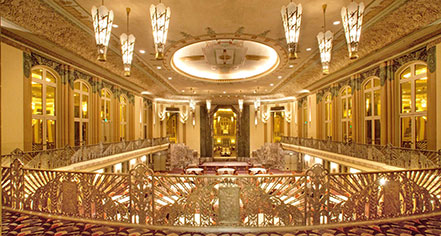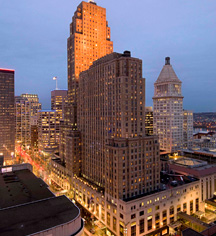 Overview
The Hilton Cincinnati Netherland Plaza is a true French Art Deco hotel masterpiece. Opened in 1931, the landmark hotel in Cincinnati was an integral part of the first multi-use complex in the United States. Described as a "city within a city," the complex featured an office tower, hotel, fully automated garage, shopping complex, and restaurants. Today, the hotel is the city's crown jewel.
The historic hotel's main lobby and mezzanine areas feature a half acre of rare Brazilian rosewood, extensive use of German silver, and a stylized Egyptian decor reinforced with delicate floral motifs. There are also exquisitely detailed frescoes, ceiling murals, an original Rookwood fountain with a pair of matching seahorses, and the refined Restaurants at Palm Court, which includes Orchids at Palm Court—named #7 Best Restaurant in the USA by OpenTable for 2014.
Other areas not to be missed are the renowned Hall of Mirrors, modeled after the Palace of Versailles in Paris, the Continental Room, with striking floor-to-ceiling windows, gorgeous chandeliers and amazing frescoes of the four seasons, and the Pavillion Ballroom, originally the hotel's nightclub.
Each of the updated 561 guestrooms and suites at the Art Deco hotel feature in-room safes and refrigerators, flat-screen televisions with expanded high-definition programming, wireless high-speed Internet access, new soft goods packing including seating, curtains, and matching box spring wrap, individual heating and air controls, and a work space that includes a five-point desk chair.
Centrally located in downtown Cincinnati, the hotel is within the Carew Tower shopping and dining complex and within four blocks of 90+ additional shops and restaurants. The hotel is also the anchor for the city's famous skywalk system, which connects to the Duke Energy Convention Center, businesses, shops, and restaurants. The historic hotel is adjacent to the heart of the city, the Fountain Square Entertainment District and within walking distance to The Banks, a new restaurant and urban green space destination on the banks of the Ohio River (just 4 blocks from the hotel), Paul Brown Stadium, Great American Ballpark, US Bank Arena and theaters.


Click here to watch a video about Hilton Cincinnati Netherland Plaza.

Hilton Cinncinati Netherland Plaza, a member of Historic Hotels of America since 1991, dates back to 1931.
The hotel is one of the world's finest examples of French Art Deco style, and was used as the model for the Empire State Building in New York City.
Original Property Opened: 1931
Historic Hotels of America toll-free reservations number +1 800 678 8946

Location
35 West Fifth Street
Cincinnati, OH 45202

Check-in time: 4:00 p.m.
Check-out time: 11:00 a.m.



Hotel Amenities & Policies
Accessible Rooms: Accessible rooms are available. Please notify request at time of booking.
Adjoining Rooms: Available.
Age Requirements: Guests are required to be 18 years or older with photo identification to reserve a room and check-in.
Airport Transportation: Not Available.
ATM
Cancellation Policy: 24 hours prior to date of arrival.
Cribs and Pack-in-Plays: Available upon request; complimentary.
Deposit: No deposit unless special event.
Early Check-In/Late Check-Out: $100.00 Early Departure from scheduled departure date will result in a $100 fee.
Extra Person Fees: Extra-person charges may apply and vary depending on property policy.
Hotel/Resort Fees & Taxes: Taxes: 17.5%.
Occupancy Restrictions: 5 person maximum in standard rooms.
Parking: Self-parking: $23.00 (Mabley Garage In/Out). Valet parking: $28.00 (Under Hotel In/Out). Secured: Available. Covered: Available. In/Out Privileges: Available. Other Parking Information: Valet: Electric Charging, Motorcycle, Accessible.
Payment: All forms of payment are accepted. Payment is required at time of booking. Visa, MasterCard, Amex, Diners Club, China Union Pay, Carte Blanche, Bankamericard, and Discover are accepted.
Pet Policy: Service animals allowed: Yes. Pets allowed: No.
Rollaways: Available upon request; $30.00 per night.
Smoking Policy: Non-smoking property.
Transportation: Limo or Town Car service available.
The above list may not be comprehensive and information is subject to change without notice. Fees and deposits may not include tax. Taxes, fees, deposits, and policies are subject to change without notice.
Image Credit: ©Rashad Ashurov/Shutterstock
The Great Depression, 1929 ~ 1938
The Hilton Cincinnati Netherland Plaza is a true French Art Deco hotel masterpiece. Opened in 1931, the landmark hotel in Cincinnati was an integral part of the first multi-use complex in the United States.
Learn more about the History of Hilton Cincinnati Netherland Plaza .