Hilton Fort Worth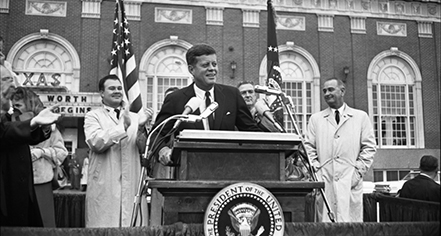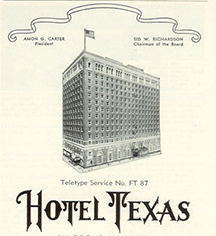 History
1920 - Construction began on Hotel Texas, a Beaux-Arts hotel designed by Sanguinet & Staats and Mauran, Russell, & Crowell.
1921 - Hotel Texas was completed and celebrated it's grand opening.
1961 - A ballroom on the second level was added.
1963 - November 21-22, President and Mrs. John F. Kennedy stayed at the hotel in Room 850. The next morning, Kennedy gave what would be his last address in the hotel's Crystal Ballroom, just hours before he was assassinated in Dallas.
1968 - The hotel underwent a major renovation that coincided with the opening of the Fort Worth Convention Center that involved splitting the original two-story lobby into two floors and the addition of a 161-foot (49 meter) 13-floor annex across Commerce Street.
1979-1981 - Architects Jarvis, Putty, Jarvis oversaw a major restoration project of the hotel, including returning the space of the lobby to the original configuration, the creation of an all-new interior (since there was nothing left of the original interior) featuring an atrium between the wings of the "U" shaped tower, and the installation of new lighting on the upper levels to resemble the original lighting of the hotel.
1979 - Hotel Texas was added to the National Register of Historic Places on July 3.

Hilton Fort Worth, a member of Historic Hotels of America since 2016, dates back to 1921.