Historic Hotels of Lake Geneva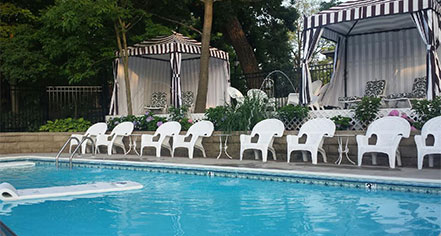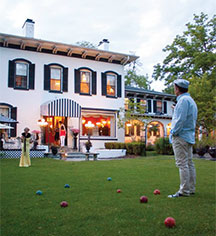 Local Attractions
Lake Geneva offers the perfect activities for visitors of any age. Whether seeking adventure, the arts, or wanting to connect with nature, the list of things to do in Lake Geneva are endless. On land, visit adventure parks, festivals, fairs, hiking and biking trails, museums, a round of golf, go horseback riding, explore ski hills, cruise across snowmobiling trails, go zip lining, and much more! On water, experience a romantic boat cruise, a private fishing charter, take the family parasailing, or rent a boat for a memorable day on the water. In the wintertime, besides skating and ice fishing, spending the day at the spa is a great way to take your mind off the weather and rejuvenate. From families to girlfriend getaways to golf outings – Lake Geneva has a plethora of activities for all!
Boat Tour around the Lake
During the main tour season, there is no better way to experience Geneva Lake than on board a narrated boat tour with Lake Geneva Cruise Line. Choose from a wide variety of unique sightseeing tours that all provide an up close view of the beautiful estates and mansions that line the shores. Whether you are looking for a historical tour that tells about the famous names that settled in the area or a relaxing sit-down evening dinner cruise, Lake Geneva Cruise Line truly has something for everyone. Don't miss the world famous US Mailboat Tour or indulge in a delicious ice cream sundae on the Ice Cream Social Tour. Tours depart April to November.
Golfing
Seven amazing world class courses with a favorite being the Gary Player Course. Opened with nine holes in 1995 and Mr. Player returned in 2000 to finish the job. The result is an amazing 18 holes of golf and possibly the most popular course at Geneva National. The course takes advantage of the natural wetlands in the area and offers great risk-reward holes. In addition to a challenging round, the Player Course offers fantastic views of Lake Como and the surrounding area.
Venetian Fest
A five day festival featuring a carnival, craft fair, water ski show, musical entertainment, and local cuisine. On Sunday, the festival's traditional lighted boat parade is followed by a fantastic finale of fireworks display high above Geneva Lake and a Masquerade Ball at the Baker House.
Winterfest
Where Art Meets Winter. Every winter, Lake Geneva hosts Winterfest, a two week festival that celebrates art, winter, family, and fun. Winterfest is home to the U.S. National Snow Sculpting Competition, where fifteen teams of the most talented snow sculptors and artists from around the country gather to compete for a national title. The entire competition is open to the public, so Winterfest attendees can actually watch the artists at work! The festival doesn't stop there – Winterfest is also home to a Human Dog Sled Race, the Abominable Snow Race, magic shows, helicopter rides, a chili cook-off, and incredible deals at local hotels and restaurants.
Yerkes Observatory
From season to season, the evening sky changes slowly and reveals many different celestial wonders visible with, and without, optical aid. Every month during the year, on select weekday and weekend evenings, Yerkes Observatory offers observing sessions with a 40-inch diameter refractor telescope, the largest lens telescope in the world, and with a 24-inch diameter reflector telescope, weather permitting, for participants who are age 10 and older.
The Dancing Horses Theatre
The Lake Geneva area's most unique family attraction. Year round, sit back and experience the beauty of the Dancing Horses as we take you on a magical journey. This one of a kind show is fantasy with a mix of whimsical performances. A show perfect for all ages. Enjoy the Exotic Bird Show, starring Echo, the Singing Parrot from America's Got Talent. May to October see the Animal Gardens Petting Zoo. Visit the Baby Barn and take a tour through the Wildlife park. All three experiences included with admission.