Hotel Casa del Mar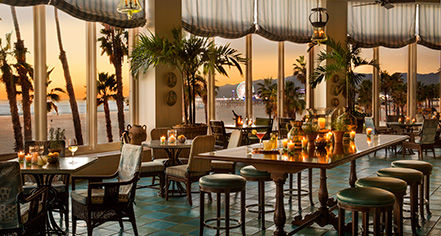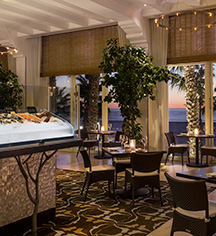 Dining
A wonderful culinary adventure awaits at Hotel Casa del Mar, as its stunning dining establishments embody the true essence of the sea.
Catch
At Catch, guests will encounter an excellent offering of fresh seafood obtained directly from the nearby Pacific Ocean. Its massive oyster bar and delectable variety of sushi will satiate every appetite.
Terrazza Lounge
The warm and inviting Terrazza Lounge is another marvelous place to dine as well, with its breathtaking 180-degree waterfront views of the Pacific and sumptuous Mediterranean-inspired cuisine.
Cabana Lounge
Afterward, guests may saunter over to the luxurious Cabana Lounge for some well-earned rest and relaxation. Designed by the renowned interior decorator, Michael S. Smith, it is among the most popular destinations in Santa Monica. The lounge's golden décor emits a sophisticated charm that many have found to be simply irresistible. A tremendous selection of cocktails and fine wines define the menu, as do a savory selection of canapés. Rest assured, there is nowhere better to unwind in the city than the Cabana Lounge.