Hotel Casa del Mar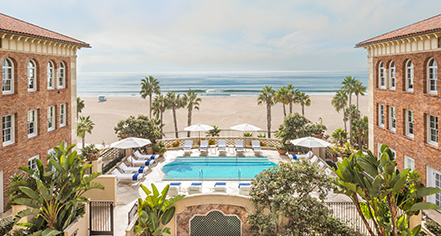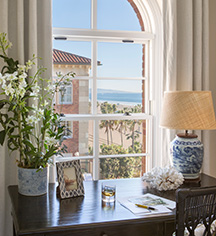 History
Listed on the National Register for Historic Places, the illustrious Hotel Casa del Mar harkens back to an era when the beaches surrounding Santa Monica were known affectionately as the "Gold Coast." As unprecedented economic prosperity swept through the area during the 1920s, many local entrepreneurs started developing upscale beach clubs along the city's shoreline. The clubs became an immediate overnight sensation in Southern California, offering the affluent of nearby Los Angeles a tranquil place to vacation. By the end of the decade, they had become synonymous with the city itself.
Hotel Casa del Mar emerged amid this cultural transformation. Debuting in 1926 as "Club Casa del Mar," the facility had long been the dream of two enterprising businessmen from Los Angeles named E.A. Harter and Tilford "T.D." Harter. Both men desired to construct a grand resort in Santa Monica that would tower in prominence above all the rest. Harter and Tilford hired the esteemed architect Charles F. Plummer for the task. Regarded for his work throughout the West Coast, Plummer brilliantly incorporated Italian Renaissance Revival-style aesthetics into the building's impressive design.
When Club Casa del Mar finally opened, it was one of the most superlative beach resorts in the region. Charging an annual due of $10, the club offered the finest amenities and services of its day, including swimming pools, activity centers, and ballrooms. Everything from lively concerts to eloquent galas were held at Club Casa del Mar. As such, people from across Southern California had become enchanted with the resort. Its popularity continued to grow to such an extent that the club maintained an average membership of 2,000 accounts during the height of its success. Several Hollywood celebrities were even regulars, like actress Theda Bara and film composer Rudolph Frim.
Club Casa del Mar and the rest of Santa Monica's high-profile beach resorts fell into a considerable period of decline following the Second World War. One by one, these prestigious businesses shuttered their doors as their clientele fled to newer vacation hotspots. Nearly all were left abandoned and eventually demolished. Fortunately, Club Casa del Mar did not suffer the same fate. After spending time as the site of various health and wellness facilities, the structure was reborn as a beautiful boutique hotel in 1996. Known today as Hotel Casa del Mar, this resplendent seaside getaway is the last remaining icon in Santa Monica from that historic golden age.
Hotel Casa del Mar, a member of Historic Hotels of America since 2018, dates back to 1926.