Hotel Casa del Mar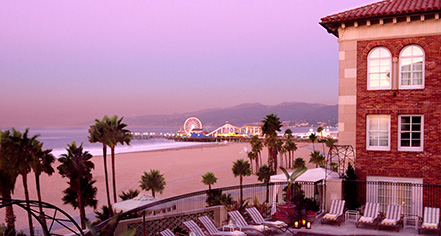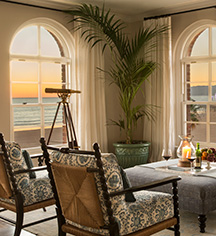 Local Attractions
Situated directly on the world-renowned Santa Monica Beach, Hotel Casa del Mar is surrounded by a near-endless array of destinations to visit. Prominent local landmarks—like the famous Santa Monica Pier and Venice Boardwalk—are within walking distance of the hotel. More thrilling cultural attractions abound throughout the surrounding neighborhoods, too, such as the Getty Villa, the Broad Stage, and the Bergamot. Some of the finest shopping in the state calls Santa Monica home, as do a wealth of gourmet restaurants, art galleries, and entertainment centers. And if that wasn't enough, the vibrant, cosmopolitan City of Los Angeles is only just a few minutes down the road. As such, Hotel Casa del Mar is among the greatest places to stay in the area for an authentic, Southern California vacation.
Santa Monica Pier
The Santa Monica Pier has been an established local icon in the city for more than a century. This spectacular historical landmark features a number of exciting attractions to try, including a family-friendly amusement park known as Pacific Park.
Venice Boardwalk
One of Southern California's most visited cultural attractions, the Venice Boardwalk resides just a short distance from the Santa Monica Pier. Countless amateur street performers line its majestic pathway, including the mimes, jesters, and musicians.
Montana Avenue
Home to more than 150 high-end retail brands, Montana Avenue is among Santa Monica's most luxurious shopping districts. Avid shoppers from the world over will be awestruck by the extensive diversity of its storefronts.
3rd Street Promenade
The 3rd Street Promenade is a unique combination of shopping center and amateur performing-arts stage. This terrific destination offers additional upscale retail shops to visit, as well as numerous fine dining establishments that include the Penthouse, Buxie, and UOVO.
Abbott Kinney Boulevard
Another of Santa Monica's premier shopping districts, Abbott Kinney Boulevard features dozens of trendy artisan storefronts. This laid-back neighborhood is especially known for the rich street art that covers its many buildings.
The Getty Villa
The Getty Villa is a splendid art museum that educates its visitors about the ancient Mediterranean civilizations of Greece, Rome, and Etruria. Constructed to resemble a grand Roman estate, the institution possesses a collection of some 44,000 antiquities from these three prolific societies.
The Broad Stage
The Broad Stage is a 499-seat theater nestled within the heart of Santa Monica College. Numerous theatrical performances have occurred at the Broad Stage, with the likes of Helen Hunt, Patti LuPone, and Anna Netrebko, all headlining in the past.
Bergamot
Once the site of a station along the Los Angeles and Independence Railroad, Bergamot is now a beautiful building complex consisting of many private art galleries. The facility expands for some eight acres, and is replete with a stunning variety of original contemporary artwork.