Hotel Valley Ho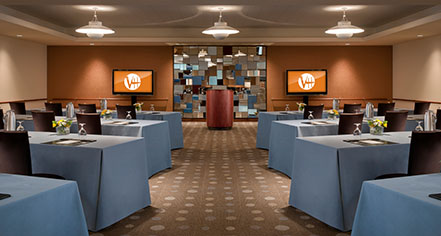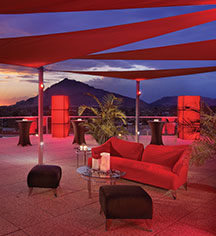 Meetings & Groups
Hotel Valley Ho is a unique location for meetings, conferences, groups, weddings, and private functions. It features classic mid-century modern design, floor-to-ceiling glass, and spaces ideal for everything from an intimate retreat to a new car debut.
The hotel offers over 10,000 square feet of flexible indoor meeting rooms with an abundance of natural lighting. Four distinct, contemporary boardrooms, named after historic Las Vegas hotels, feature black and white photos of their heyday, as well as Herman Miller executive chairs and large, wall-mounted LCD televisions. The SoHo Room features high-capacity sky hooks, additional power options, and enough room to drive a vehicle in through the front door. And the Valley Ho Room is where teen idols Robert Wagner and Natalie Wood had their 1957 wedding reception.
There is also over 20,000 square feet of beautiful outdoor space. Palm Court is a lushly landscaped spot for lunches and more. Main Place Courtyard features unique overhead lighting, the OH Pool has room for hundreds, and the Sky Line Rooftop atop the seven-story tower offers sweeping view of Downtown Scottsdale and Camelback Mountain.
Event Space Chart:
| | | | | | | | | |
| --- | --- | --- | --- | --- | --- | --- | --- | --- |
| | | | | | | | | |
| East Palms Lawn | 2,000 | - | - | - | 160 | 275 | - | - |
| OHasis Pool | 1,500 | - | - | - | 80 | 150 | - | - |
| Main Place Courtyard | - | 40 x 50 ft | - | - | 160 | 275 | - | - |
| Sky Line Rooftop | 3,500 | - | - | - | 170 | 250 | - | - |
| OH Pool | 6,750 | - | - | - | 225 | 325 | - | - |
| Palm Court | 5,000 | - | - | - | 300 | 500 | - | - |
| Valley Ho I | 1,205 | 41 x 30 x 11 ft | 60 | 128 | 80 | 100 | 30 | 30 |
| Valley Ho II | 1,205 | 41 x 30 x 11 ft | 60 | 128 | 80 | 100 | 30 | 30 |
| Valley Ho Room | 2,410 | 41 x 60 x 11 ft | 150 | 256 | 160 | 200 | 60 | 60 |
| SoHo II | 2,000 | 36 x 55 x 17 ft | 110 | 250 | 140 | 275 | 50 | 40 |
| SoHo I | 2,000 | 36 x 55 x 17 ft | 110 | 250 | 140 | 275 | 50 | 40 |
| SoHo Room | 4,000 | 72 x 55 x 17 ft | 240 | 500 | 300 | 550 | - | 80 |
| Sands | 3,500/1,500 | 60 x 58 x 11 ft | 160 | 250 | 200 | 350 | 60 | 50 |
| HVH Boardroom | 308 | 14 x 22 x 9 ft | - | - | - | - | 12 | - |
| Riviera Boardroom | 356 | 15 x 25 x 9 ft | - | - | - | - | 12 | - |
| Dunes II | 356 | 15 x 25 x 9 ft | 15 | 35 | 20 | 30 | 14 | 14 |
| Dunes I | 356 | 15 x 25 x 9 ft | 15 | 35 | 20 | 30 | 14 | 14 |
| Dunes Room | 760 | 31 x 25 x 9 ft | 35 | 60 | 60 | 70 | 28 | 26 |
| Sahara Boardroom | 760 | 31 x 25 x 9 ft | - | - | - | - | 18 | - |
| Tropicana Room | 1,152 | 47 x 25 x 9 ft | 60 | 120 | 70 | 125 | 46 | 40 |
| Boardroom Courtyard | 1,200 | - | - | - | 70 | 125 | - | - |