Inn at Perry Cabin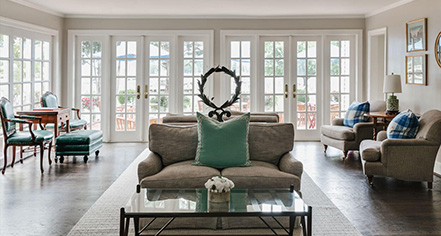 History
Situated on the west side of Maryland's Eastern Shore, the Inn at Perry Cabin is located in the historic, idyllic town of St. Michaels. Rich in colonial history, the Inn is located between the Susquehanna and Chesapeake Bay, within prestigious Talbot County. Talbot is a premier destinations in the Mid-Atlantic region and claims to have the most shoreline in the continental United States. Nestled on 26 acres of forest and farmland along the beautiful Miles River, the charming Inn at Perry Cabin enchants visitors with stunning waterside views and modern comforts.
The Inn at Perry Cabin began as a private estate after the War of 1812. The original structure was designed and built by Samuel Hambleton in 1816, a War of 1812 Navy veteran and aide-de-camp to Commodore Oliver Hazard Perry. The Inn was built to resemble the Commodore's cabin ('Perry Cabin') on the flagship U.S.S. Niagara.
Hambleton named the adjoining farmland Navy Point, which today contains the Chesapeake Bay Maritime Museum. Located on the breathtaking Chesapeake Bay, St. Michaels has been known as "the town that fooled the British" when residents hoisted lanterns into the trees to fool British cannons into overshooting the town. The coastal farms and trading post on St. Michaels became a small village of shipwrights and craftsmen with a local shipbuilding industry. Visitors can still experience St. Michaels' maritime heritage, and enjoy a taste of Chesapeake Bay cuisine through locally caught fish, crabs, and oysters.
The Inn site was a tobacco farm until 1952, and then a riding academy until its purchase in 1980 by Harry and Teresa Meyerhoff, the owners of 1979 Kentucky Derby winner, Spectacular Bid. Realizing the area's natural charm, the site was restored to a restaurant and a small inn. In 1989, the site was purchased and renovated by Sir Bernard Ashley, who built a home-decorating and fashion firm named for his late wife, Laura. A two year expansion turned the Inn at Perry Cabin into a luxury resort. Orient-Express Hotels acquired the location in 1999, and added additional guestroom buildings.
With fantastic vistas of the Miles River and wonderful amenities, the boutique Inn at Perry Cabin remains as popular as ever. The Inn was named number one in the Mid-Atlantic by Condé Nast Traveler Readers' Choice Awards 2017, and number one in Maryland by Travel + Leisure. This picture perfect place has ties to romance since 1928 when it was part of the Fay Wray and Gary Cooper silent film, The First Kiss, and wedding fame when featured in the 2005 movie, The Wedding Crashers, with Owen Wilson, Vince Vaughn, and Jane Seymour. This premier resort continues to host visitors seeking nautical charm and a sense of escape.
Inn at Perry Cabin, a member of Historic Hotels of America since 2018, dates back to 1816.