Inn at Price Tower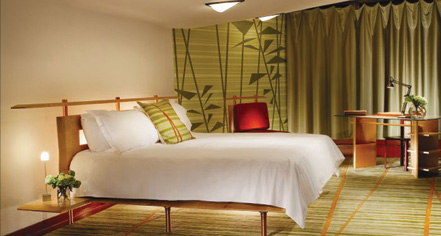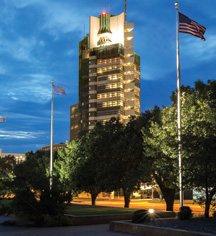 Activities & Events
Exhibition
Visit the Arts Center for traveling exhibitions year-round. Past shows include Christo and Jeanne-Claude: The Tom Golden Collection, several Bruce Goff collections, Karim Rashid and Lights! Camera! Fashion!: The Film Costumes of Edith Head.

Tuesday-Saturday: 10:00 AM - 5:00 PM
Sunday: 12:00-5:00 PM
Guided Tour Times Available
Adult - $6.00
Senior (65+) - $5.00
Children 18 & under admitted free
Guided Historic Tours
The 60-minute guided tour of Frank Lloyd Wright's Price Tower includes a visit to the restored 19th floor executive office of H.C. Price and H.C. Price Company Corporate Apartment. In those spaces, you can view original Wright interiors. The tour concludes with a view of both the temporary and permanent exhibitions on the first floor and second floor mezzanine.

Tuesday-Thursday: 11:00 AM and 2:00 PM
Friday and Saturday: 11:00 AM, 1:00PM, and 2:00 PM
Sunday: 2:00 PM
Adult - $12.00
Senior (65+) - $10.00
Children 18 & under - $10.00
(Inn Guests receive a complimentary historic tour with advance reservations made at the front desk).
Wright Place Gift Store
The fine Museum Store located in the Arts Center offers a true shopping destination filled with distinctive gifts centered on quality design and PTAC current exhibitions and Frank Lloyd Wright collections.

Tuesday-Saturday: 10:00 AM-5:00 PM
Sunday: 12:00 PM-5:00 PM
Special Events
Free Family Sunday
Offered on the third Sunday of each month, Price Tower Arts Center hosts a day of free admission to the exhibition for all visitors. Learn about the World Heritage nominated building and experience art, architecture, and design as you explore.
Third Sunday of each month: 2:00 PM-5:00 PM
Copper Bar
Tuesday-Thursday: 4:00 PM-9:00 PM
Friday and Saturday: 4:00 PM-11:00 PM
Happy Hour: 4:00 PM-6:00 PM
Taste of Oklahoma Music Series
With this series, live talent is brought in from across the great state of Oklahoma.
First Fridays: 8:00 PM-11:00 PM
Jo Hemian Jazz Syndicate
This four-piece jazz group performs in the tradition of the Bebop-era musicians from Charlie Parker to Duke Ellington. Taking the framework of standards and making them different every time. Come enjoy live jazz, wine, and a beautiful view.
Second Saturdays: 8:00 PM-11:00 PM
Picnic in the Sky Music Series
Live music performed by former Bartian, Ayngel McNall, and her guitarist, John Russell, who bring renditions from a variety of artists to life. Food and drink specials are available.
Third Thursdays: 7:30 PM-9:30 PM
Karaoke at the Copper
So you think you've got talent? Or maybe you don't? Either way come belt out your favorite songs among friends. Get your happy on with extended happy hour drink specials all night.
Fourth Thursdays: 7:00 PM-9:00 PM
Annual Events Gala Fundraiser
The fundraiser begins at 6 PM with a VIP Reception. The gala event will begin at 7 PM in the Bartlesville Community Center. The evening includes live and silent auctions, dinner, and dancing.
EGGstravaganza Egg Drop - June
This is a challenge for an individual or team to design a structure that will protect an egg during its drop from the 10th floor balcony of Price Tower. Unbroken eggs closest to the target on the ground will be the prize winners.
Family Arts Festival
Second Saturdays in October, this free and fun festival for kids and families is filled with crafts, live music, storytelling, youth art show, activities, games, food trucks, and art bazaar.
Last Saturday in January: 6:00 PM