La Valencia Hotel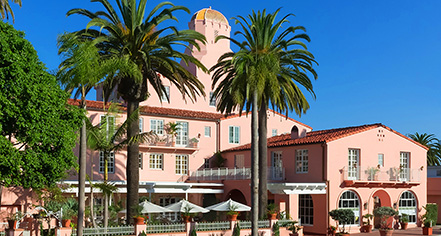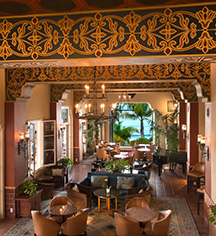 Overview
Commanding the coastline for nine decades is the iconic La Valencia Hotel, The Pink Lady of La Jolla, San Diego's jewel community. Known for decades as The Pink Lady, guests assume it is due to the hotel's pale pink exterior. But La Valencia spent her first decades as a classic white Mediterranean, red tile roofed icon until the late 1950s, when the owners returned from a vacation on Waikiki beach and were inspired to paint the hotel pink! The original Pink Lady of La Valencia is gracefully displayed in an original tile medallion installed in the ocean-facing Garden in 1928, depicting a Spanish lady dressed in pink.
From the indulgent Villas surrounding the ocean-view pool, to the intimate Vintage rooms in the soaring 1928 Tower wing, to the more residential Classic rooms and suites in the original 1926 Sevilla and 1908 Cabrillo wings, La Valencia offers a diverse and engaging choice of accommodations for every taste. The resort evokes a decidedly Mediterranean flair with Spanish architecture, a myriad of colorful tiles and tile work, and extensive mature grounds which cascade down the bluff to Scripps Park and the Pacific Ocean. The flavors of the ocean abound in the hotel's signature MED Ocean View Restaurant. It is complimented by La Sala Lounge, offering live entertainment, and surrounded by captivating views of the Pacific, under hand-painted ceilings. Casual European-inspired fare is served from Café la Rue, the hotel's village-facing bistro and bar, and home to the property's nostalgic collection of photography and famous murals.
With boundless leisure opportunities, including 65 local golf courses, local scuba, and kayaking to destinations like the San Diego Zoo and Sea World, the activities in La Jolla are endless. Steeped in celebrity history, La Valencia continues to welcome luminaries and inspired travelers from across the globe to an authentic experience of personable and approachable Southern California hospitality.

La Valencia Hotel, a charter member of Historic Hotels of America since 1989, dates back to 1926.

The hotel's distinctive tower was used as a civil defense lookout during World War II.


Original Property Opened: 1926
Historic Hotels of America toll-free reservations number +1 800 678 8946

Location
1132 Prospect Street
La Jolla, CA 92037

Check-in time: 4:00 p.m.
Check-out time: 12:00 p.m.




Hotel Amenities & Policies
Accessible Rooms: Accessible rooms are available. Please notify request at time of booking.
Adjoining Rooms: Adjoining rooms are available. Please contact hotel to reserve.
Age Requirements: Guests are required to be 21 years or older with photo identification to reserve a room and check-in.
Airport Transportation: Call Concierge to make arrangements via Limousine; rates apply.
ATM
Cancellation Policy: 48 hours prior to arrival.
Cribs and Pack-in-Plays: Available upon request.
Deposit: One night's stay.
Early Check-In/Late Check-Out: Subject to availability. Please contact hotel.
Extra Person Fees: Extra-person charges may apply and vary depending on property policy.
Occupancy Restrictions: Varies by room type.
Parking: Self-parking: not available. Valet parking: available; included in Resort Fee.
Payment: All forms of payment are accepted. Payment is required at time of booking. Visa, MasterCard, Amex, Diners Club International, and Discover are accepted.
Pet Policy: Service animals: Yes. Pets allowed: Yes. Fees: $30 per day.
Resort Fee: $30 per night; the fee will include overnight valet parking with in & out privileges; local phone, calling card, and toll-free calls; incoming/outgoing fax services; copy services up to 10 pages; wireless internet connectivity; 24 hour fitness room; 24 hour business center; in-room coffee/tea; complimentary daily newspaper; complimentary postage on domestic mail; and beach tote-towels.
Rollaways: Available upon request; $30 per night.
Smoking Policy: Non-smoking property.
Taxes: Rooms and Resort Fees are subject to 12.5% state and local taxes as well as the California Tourism Assessment Tax which is 0.4% of the daily room rate.
The above list may not be comprehensive and information is subject to change without notice. Fees and deposits may not include tax. Taxes, fees, deposits, and policies are subject to change without notice.
Image Credit: ©Rashad Ashurov/Shutterstock
The Jazz Age, 1919 ~ 1928
Commanding the coastline for nine decades is the iconic La Valencia Hotel, The Pink Lady of La Jolla, San Diego's jewel community. Known for decades as The Pink Lady, guests assume it is due to the hotel's pale pink exterior.
Learn more about the History of La Valencia Hotel .