La Valencia Hotel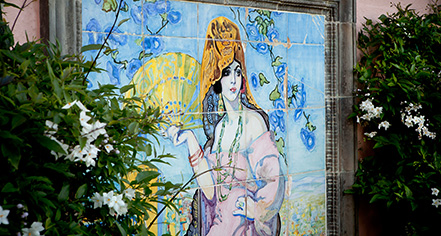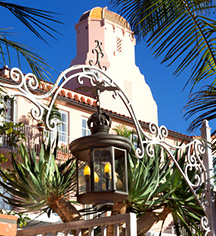 History
On December 15, 1926, La Jollans MacArthur Gorton and Roy B. Wiltsie formally opened La Valencia Apartment-Hotel overlooking La Jolla Cove on Prospect Street at Herschel Avenue, designed by Reginald Johnson. Two years later Gorton and Wiltsie announced a second opening, a handsome addition to the structure, bringing their total investment to $300,000. Designed by Herbert J. Mann and Thomas L. Shepherd, the eight-story second unit added hotel-style rooms, a lounge with a full-length balcony, breathtaking Pacific Ocean views and a new restaurant presided over by a dietitian-trained chef.
From the lavish grand opening four days after Christmas in 1926, the historic hotel in La Jolla attracted the wealthy and celebrated - many of their autographed pictures hang to this day in an alcove just off the main lobby. In the 1930s, La Valencia had achieved its signature style, that patina of service, accoutrements, and atmosphere that set it apart from ordinary hostelries.
In 1928, a distinctive tower with a gold and blue dome was added to La Valencia. As part of the Civil Defense program during World War II, the tower was manned in two-hour shifts, 24 hours a day. Many hotel guests joined patriotic La Jolla residents in climbing the tower to scan the skies for enemy aircraft. After the war, La Jolla Playhouse became the most prestigious summer playhouse in the country, and many of the stars that graced the stage made La Valencia their residence while in town.
The hotel's lower three floors were completed in 1949 and the pool, gym, sauna, putting green, and shuffleboard were put in shortly after. The Cabrillo Hotel adjacent to the La Valencia was acquired in 1956 and incorporated as the West Wing. This 30-room addition brought La Valencia's room capacity to 100. Cafe La Rue and the Whaling Bar were also constructed at this time, though the rooms' decor makes it seem like they've been around forever.
As the 1960s gave way to the '70s and '80s, the hotel, like the town, became not just a place for visitors looking for a change of climate and scene, but a social melting pot of those who lived and/or worked in La Jolla. The turn of the 21st century included the addition of 16 lavish Villas and the hotel's premier pool deck which now includes a salt water spa. In 2015, the Sky Room made way for the posh ICON Sky Suite with retractable windows and 180 degree ocean views. In 2017, the hotel will introduce Spa La V - housed in a circa 1908 California bungalow - and a new era of hospitality services.

La Valencia Hotel, a charter member of Historic Hotels of America since 1989, dates back to 1926.