Lake McDonald Lodge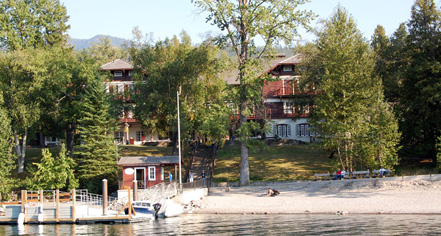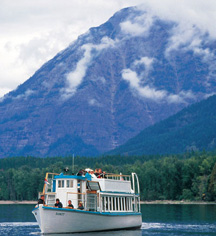 Activities & Events
Campstore
The Campstore is a spacious store offering almost everything necessary for camping, hiking, and fishing. A great selection of Glacier National Park souvenirs can also be found here, as well as groceries for picnic lunches.
Gift Shop
The Lake McDonald Lodge gift shop features a large selection of Montana-made and Native American jewelry in addition to huckleberry gourmet treats and Red Bus souvenirs.
River Rafting
Experience nature at it's best during a half or full day rafting excursion. The Spring and early Summer offer a true white-water excursion, while late Summer and Fall offer more of a scenic float.
Fishing Trips
The North Fork of the Flathead has its headwaters in the mountains of Alberta and British Columbia, some fifty miles north of the border. This beautiful, emerald green river forms the western boundary of Glacier National Park and was one of the first in the country to become one of the "Wild and Scenic River" systems.
Kayaking
Guide an inflatable kayak through the Middle Fork of the Flathead's exciting rapids. Both one and two person inflatable kayaks are available.
Boat Cruises
Choose to take one or all four unique boat cruises while vacationing in Glacier National Park.
Zipline at Whitefish Mountain Resort
Ride the Zipline at Whitefish Mountain Resort for an exciting adventure. Zip through the tree-tops on Big Mountain located near Whitefish.
Walk in the Treetops at Whitefish Mountain Resort
Walk suspended, high among the treetops for another thrilling adventure. Not for the faint at heart, this unique experience can be found on Big Mountain near the town of Whitefish.
Rock Climbing
Headquartered in Whitefish, Montana, Rock Climb Montana offers climbing instruction at Kila, near Kalispell, Montana or at Koocanusa, near Eureka, Montana.
Horseback Riding
Choose from a great selection of trips that depart from East Glacier or close to Waterton, Alberta.
Horseback Riding - Close to Whitefish
Saddle up and experience the West on this unique trail ride that includes a picnic lunch. This is a chance to enjoy a horseback ride through spectacular Spencer Mountain and the foothills of Whitefish Hills.
For more information about Lake McDonald Lodge or to make reservations please visit glaciernationalparklodges.com/lodging or call 1.855.SEE.GLACIER (855.733.4522).