Omni Shoreham Hotel, Washington DC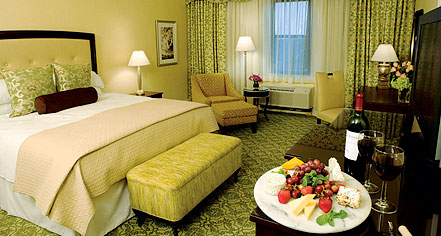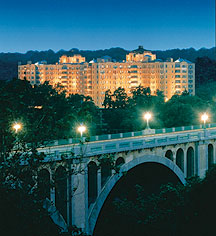 Ghost Stories
The Omni Shoreham Hotel opened during the Great Depression when hotel owner, Harry Bralove, was having some financial difficulty. He asked a gentleman by the name of Henry Doherty to become a minority shareholder in the company and to help the company financially. Doherty agreed and, on top of that, he took a suite of rooms where he decided to live with his wife.
The Dohertys were a wealthy family that owned beautiful, expensive furniture, art, china from Napoleon Bonaparte, and Persian rugs that were scattered throughout the rooms of the suite.
The hotel's executive housekeeper, Juliette Brown, also stayed in the large suite with the Dohertys. The story goes, that Juliette woke up not feeling very well early one morning. As she was reaching for the phone, she suddenly died, apparently of natural causes.
She was found when one of the engineer's noticed the phone from that room had been taken off the hook, so he went to investigate the situation. He found her dead in bed.
Awhile after Juliette's sudden death, the family decided to adopt a child. Without any children, they thought their lives might be missing out on the joy of youthful laughter. Their adopted daughter Helen also mysteriously died in the suite. The cause of her death was never confirmed, but rumors went flying that it might be attributed to drug overdose or suicide.
The Dohertys continued living in the suite, beginning in 1933, until 1973. By the time they left, the original hotel had fallen into disrepair with holes in the ceiling that allowed birds to fly in and out of and the rooms that were once so beautiful and plush. Fungus grew in the carpets, and it was apparent that it was no longer the palace of splendor as it once was.
After the Dohertys moved out, strange occurrences started in the guestrooms and wings surrounding their suite. Televisions and lights would suddenly go on at 4:00 a.m., which is questionably around the time of Juliette's death. Housekeepers would find that their carts had been moved and people reported feeling a breeze, as of somone had just run by them.
Records report that, in 1975, a guest was staying in Room 863 when he called the general manager with complaints about noise throughout the past two evenings from the room next door. The guest knew nothing of the rumored ghosts or of the deaths, and he certainly did not know that the room next door was the room where Juliette died. However, there was no one staying in the room those two nights.
Hotel employees have named the ghost "Vivica." It is yet unanswered if it is Juliette or Helen or both who haunt the rooms at the Omni Shoreham Hotel. Since the 1970s, the rooms have been redesigned, redecorated, and restored. This suite of rooms has become a Presidential Suite and is appropriately named, The Ghost Suite, and offers guests fabulous city views.