Plaza Hotel 1882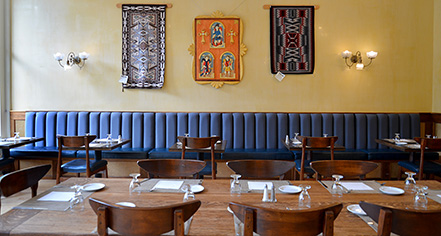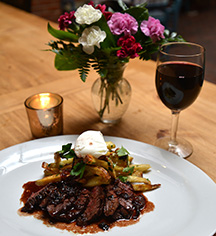 Dining
Gilded Age
The Gilded Age, Plaza Hotel 1882's late Victorian era dining room, is located just off the lobby. Its nine foot tall windows offer wonderful views of historic Old Town and Plaza Park. The dining room's bright yellow Venetian plaster walls are covered with exceptional New Mexico Santos carvings and beautiful Navajo weavings.

The kitchen is supervised by Chef Amaury Torres, who crafted a locavore menu focused on traditional Spanish and Victorian cuisine. Guests can start the day with the famous Fred Harvey Huevos Rancheros breakfast, created with blue corn tortillas, shredded homegrown beef, topped with two eggs, and locally grown chile. Those craving something sweet can indulge in Byron's blue corn cakes and eggs, served with whipped butter and delicious maple syrup. Popular for lunch is the Plaza Club, which was named after a "gentlemen's only club" in Saratoga Springs, New York. For dinner, mouthwatering entrees include Spanish vegetable pasta, served with locally grown veggies and the state vegetable, the green chile; and Charles Ilfeld's dry-aged ribeye, named after the owner of the Great Emporium, now part of the Plaza Hotel.

Visitors can unwind at the full service saloon with patio seating. Sip on a glass of sangria garnished with fresh fruit, or try a New Mexico crafted beer. Compliment a ribeye steak dinner with a glass of Ruidoso Red and enjoy a fine selection of top shelf beverages.

Reservations are recommended and dress is casual.

Hours of Operation
Breakfast: 7:00 a.m. – 11:00 a.m.
Lunch: 11:00 a.m. - 2:00 p.m.
Dinner: 5:00 pm – 9:00 p.m.