Plaza Hotel 1882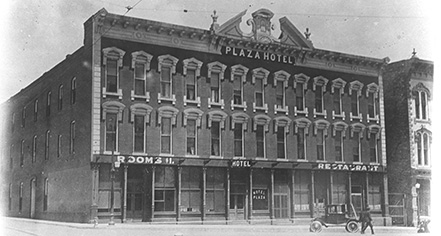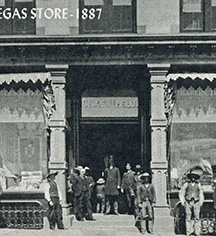 History
The Plaza Hotel was built in 1882 by a group of local businessmen under the leadership of Benigno Romero. The three-story, Italianate-style, brick building was designed by local architect T. J. Raywood at a cost of $25,000. The hotel's front façade is capped with an elaborate cornice and features nine foot tall windows with ornate pediments.
In 2006, the hotel expanded to include the adjacent Ilfeld Great Emporium building, which also was constructed in the Italianate style. The emporium was constructed in 1891 by architect H.W. Kirchner for Charles Ilfeld. Over the years, the building more than doubled in size as Ilfeld's business grew and Ilfeld's sales motto, "We Sell Everything," can still be seen painted on the east wall of the building. The 2006 expansion allowed the Plaza Hotel to add a huge ballroom on the ground floor of the Ilfeld building, and to link the second and third guestroom floors together between the buildings, which more than doubled the size of the original hotel.
From the beginning, the Plaza Hotel was recognized as one of the most stylish buildings in the Southwest and has been featured as the backdrop to numerous Hollywood movies. As early as 1910, it was included in many cowboy films, including Tom Mix westerns. Some of its most notable appearances were in Easy Rider, John Carpenter's Vampires, and the Coen brothers' Academy Award Best Picture winner, No Country for Old Men. The Plaza Hotel's Victorian lobby and long staircase was the setting for a pivotal scene in No Country for Old Men between Javier Bardem, who won Best Supporting Actor for the role, and Woody Harrelson. Currently, the hotel is one of the filming locations for the Netflix western series Longmire.
Over the years, the hotel hosted many famous guests, including Tom Mix, Doc Holiday, Tommy Lee Jones, Simon Pegg, and First Lady Michelle Obama.

Plaza Hotel 1882, a member of Historic Hotels of America since 2016, dates back to 1882.