River Street Inn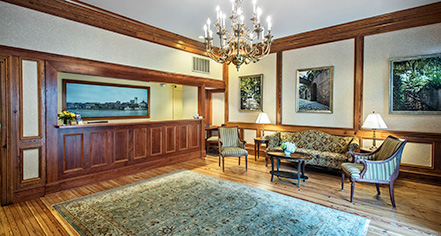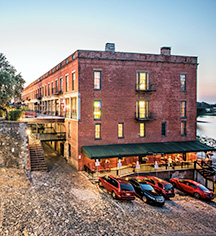 History
Perched above the Savannah River from the bluff overlooking popular River Street, the Inn's past is intertwined with that of its historic surroundings. Since the building's humble beginnings in 1817, the structure has stood adjacent to the Cotton Exchange and was used for the storing, grading and exporting of the city's main export of the age: cotton. The original two floors were built of ballastones, and in 1853 the final three floors were added as office space for the expanding and prosperous cotton industry.

An intricate series of alleys, walks and bridges gave traders access to all floors. Known as "Factor's Walk," after the professionals who graded the cotton, these alleys and the riverside ballastone streets add to the Inn's character. These stones were brought in as ballast in the numerous ships that traveled to Savannah from Europe and unloaded to make room for valuable cotton.

The surrounding buildings have a renewed life as shops, restaurants and taverns, each with their own special quality and the city's famous squares are canopied by the towering moss-draped oaks and azaleas. The handsomely restored and renovated building opened as an inn in 1986.

River Street Inn, a member of Historic Hotels of America since 1999, dates back to 1817.