St. Louis Union Station Hotel, Curio Collection by Hilton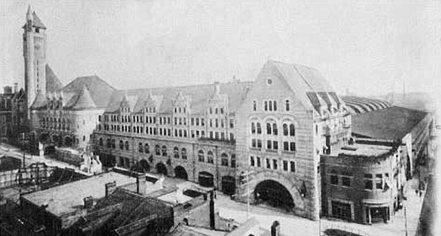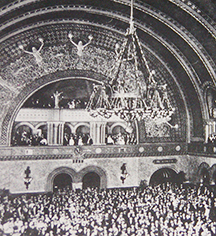 History
On September 1, 1894, the iconic Union Station opened its doors in St. Louis. After an arduous building process with designs by Theodore Link, the station's interior featured the Headhouse, a space originally utilized for the building's first hotel with a dining space, The Midway, and an expansive Train Shed. Built with elegant limestone construction and offering 22 railroad tracks, the station swiftly became the most monumental of its kind. 10,000 passengers per day stepped through Union Station's doors to get to their arrival by the 1940s, which found the Station's need to expand granted.
Though demand for railroad travel was at its peak following the expansion, it unfortunately did not meet the supply as the years progressed and air travel became a key component in traveler's plans. The station became virtually obsolete in 1978, when Amtrak's trains departed the station for the final time. HOK, global architecture and design firm, saw great opportunity in the station's vast desolation. With a $150 million renovation in August of 1985, the former travel hub was converted into a hotel boasting 539 rooms, a shopping center, and numerous dining outlets. Soon the spirit of the original Union Station was restored, as it became a bustling center for travelers and native visitors alike.
January 2010 saw the next renovation of the old station's grounds, with an expansion of the former hotel. In 2012, the hotel was rebranded to St. Louis Union Station - a DoubleTree by Hilton Hotel, and in 2016 joined the Curio - A Collection by Hilton portfolio. The spirit of the original Union Station structure lives on, in its walls lending its ambiance to a bygone era, and the legacy of travelers who have walked its halls, continuing along on their adventures. Today, the hotel serves as a welcoming ground for new travelers to explore the city of St. Louis, and continue onto their next journey.

St. Louis Union Station Hotel, Curio Collection by Hilton, a member of Historic Hotels of America since 1991, dates back to 1894.