St. Louis Union Station Hotel, Curio Collection by Hilton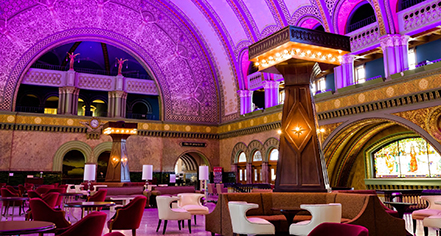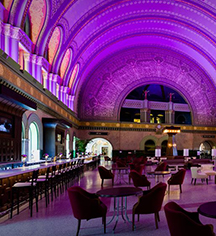 Grand Hall Lounge
Boasting a sweeping archway, fresco and gold leaf detailing, mosaics and art glass windows, and stands 65 feet at its tallest point, The Grand Hall continues to awe visitors since its grand opening in 1894. Recently renovated and restored, the iconic destination re-opened with lounge seating and a bar, serving signature drinks and delicious cuisine, including signature items such as Slow Roasted Pork Belly, Oysters Rockefeller, Mussels and Grilled Flatbreads made with local artisan cheese, cured meats, and fresh produce.
The Grand Hall provides an extensive beverage menu, including beers and microbrews from local and regional brewers, wines, and signature, railroad-themed cocktails. The wide selection of small plates, expertly prepared by executive chef Russel Cunningham, and full bar allows guests to share food among friends alongside a cocktail or linger over a meal.
Hours
Daily: 4:00 PM – 1:00 AM
Grand Hall Experience | 3D Light Show
Enjoy the color and wonder of a stunning 3D light show at The Grand Hall Experience. Each night, watch as flowers sway, fireworks burst, and other images dance around the 65-foot ceiling of the Grand Hall lobby in a state-of-the-art show designed specifically for the St. Louis Union Station hotel.
Created by Technomedia, an award-winning collaborator with entertainment companies like Cirque du Soleil, NBC Studios, and JRA. This incredible 3D mapping immersive experience is the first of its kind in the US. Hotel guests of all ages will enjoy the 10+ stories being told though sound, music, and cutting edge 3D animation. Behind these Walls, Under the Sea, Trains and Dimensional Hall are some of the shows currently playing. Revisit Union Station's past in a video narrated by actor John Goodman that features photos of the landmark train station and its passengers. The vignettes also feature narration by actor Jon Hamm and sportscasters Bob Costas, Dan Dierdorf, and Joe Buck.