The Admiral Hotel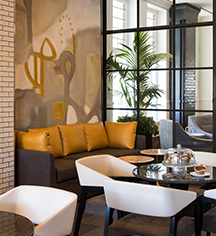 Dining & Amenities
The Admiral Hotel has two on-site dining options to satisfy coffee, breakfast, lunch, dinner, and cocktail cravings. Corner 251 is a great café, bar, and lounge for a quick meal, specialty coffee drink, cocktail, or glass of wine. Launch is the impeccable choice for an elegant dinner.
Launch
Launch is the exquisite and upscale urban eatery complimented by exposed brick walls, wood floors, and a vibrant view of Mobile. The dining menu is designed with the freshest seasonally and regionally sourced ingredients. Touted as serving a proper "meal away from home" that is fulfilling, delicious, and honest, these high-quality dishes are prepared from scratch daily with the utmost care.
The restaurant offers a unique POP UP dining experience, with monthly Craft Beer and Unique Wine dinners. Taste and learn from a select variety of local craft beer breweries, as well as top wine producers and brewers from around the United States. The experience is paired with the best Southern fare in Mobile.

Corner 251
With its unique and modern industrial design, this on-site café, bar, and lounge serves refreshing beverages and delectable food all day. Wake up to the perfect cup of coffee paired with homemade scones and muffins in the mornings. Nourish with handcrafted sandwiches, local, and traditional lunch favorites midday. Indulge in happy hour with small plates, tapas, hand-crafted cocktails, and wine in the evenings. Dinner is served until 10:00 p.m. and includes Southern favorites such as fried soft shell crab po-boy, crispy shrimp and fish, and jambalaya pasta.
Laptop and device plug-ins and charging stations are available as well as complimentary WiFi.
Hours of Operation
Daily, 6:00 a.m. - 10:00 p.m.

Bee Sustainable Program - Rooftop Apiaries
The Admiral Hotel is committed to protecting the honeybee's global decline. A big part of that commitment is looking for new and creative ways to enhance the hotel's Sustainability Platform. A flagship example of this commitment is the Bee Sustainable Program.
In supporting the community bee health, The Admiral Hotel has three honeybee apiaries which produce more than 200 pounds of honey each year. In addition, the hotel is nurturing on-property herb and vegetable gardens, which contribute to pollinator health.
Not only does the installation and maintenance of bee apiaries help the local environment by providing bees with a home to pollinate area gardens and parks, but by harvesting the honey, chefs can offer delicious, local and sustainable honey for use in on-site bars and restaurants.