The Blennerhassett Hotel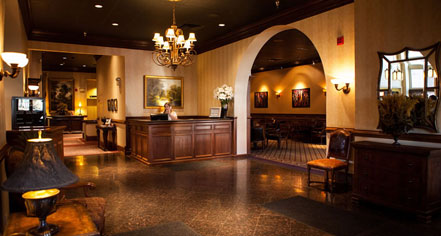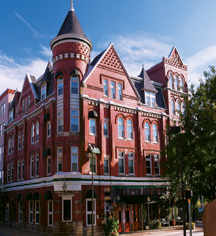 Dining
Spats Restaurant
Experience a culinary destination that is a complete departure. Spats at The Blennerhassett Hotel offers a diverse selection of dining options. Enjoy fine dining in Spats Restaurant, the casual atmosphere of Spats Lounge or the relaxed, outdoor setting of Spats Patio & Courtyard.
Whether enjoying a masterful entrée or a crisp martini, guests will savor the best of The Blennerhassett at Spats Restaurant. Spats' Signature cuisine is so imaginative, it transcends the traditional labels of American, French, and Continental. It represents the freshest ingredients and the freshest thinking – artfully orchestrated by a renowned chef to whom perfection is as important as originality.
For the perfect wine to accompany the perfect meal, guests will find Spats' award-winning wine list to be among the finest in the world offering many unique and rare brands.
Spats Lounge
Spats Lounge offers a more casual alternative to the traditional fine dining atmosphere. Guests are welcomed by soft, overstuffed leather couches and chairs, granite tables, and rich walnut wainscoting. Complimentary appetizers are available from 5:00 PM - 7:00 PM, Monday through Friday and guests are able to choose from either the Lounge Menu or Spats Restaurant menu.
RESTAURANT HOURS:
Breakfast
Monday through Friday 6:30 AM - 11:00 AM
Saturday & Sunday 7:00 AM - 11:00 AM
Lunch
Monday through Saturday 11:00 AM - 2:00 PM
Dinner
Monday through Saturday 5:00 PM - 10:00 PM
Sunday 5:00 PM - 9:00 PM
Sunday Brunch
11:00 AM - 2:00 PM

LOUNGE HOURS:
Monday through Thursday 2:00 PM - 10:30 PM
Friday and Saturday 2:00 PM - 11:00 PM
Sunday 2:00 PM - 9:30 PM
Lounge Menu
Monday through Thursday 5:00 PM - 9:00 PM
Friday & Saturday 5:00 PM - 10:00 PM
Sunday 5:00 PM - 8:30 PM
Late Night Menu (during the Patio Season)
Friday and Saturday 10:00 PM - Midnight

Hours are adjusted based upon seasonal demand.