The Buccaneer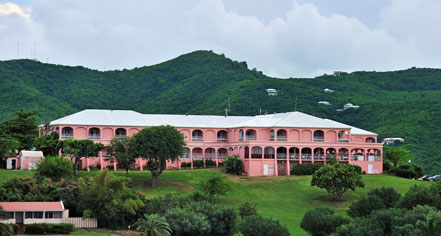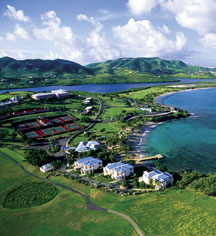 Guest Rooms and Suites
The Buccaneer offers guest rooms that are light, airy, spacious, and can accommodate guests with special needs. All guest rooms feature a balcony or patio to maximize the cool sea breezes and spectacular views of Christiansted and St. Croix.
Each guest room also includes an air conditioner, small refrigerator, safe, hair dryer, telephones, satellite television, DVD players, irons and ironing boards, coffee makers, shower/tub combination, double sinks, and ceiling fans.
Great House Ocean View Rooms
Second floor rooms with private balconies allow for fresh breezes while guests intake magnificent views of the Carribean Sea and the Christiansted Harbor. These rooms are conveniently located near the main dining area, bar, shops, spa, pool, fitness room, and lobby.
Great House Suites
These large, one-bedroom suites offer extra space and privacy on the ground floor of the Great House with a four-poster King bed with a private full bath, a walk-in closet, an extra large balcony, and spectacular sea views. A separate living room includes two day beds and its own full bath.
Luxury Ocean View Rooms
On the second floor of the Great House, adjacent to the historic Sugar Mill, these rooms feature a sitting room, large patio or balcony, marble or Italian porcelein floors, and whirlpool baths.
Family Cottage Suites
These suites are available exclusively for families with children under 12. The master bedroom features a King bed and some rooms include a Twin window seat bed. The second room has twin beds and a pull-out trundle for plenty of sleeping space. The two rooms share one full bath and each room includes a patio, spacious front lawn, and spectacular Caribbean Sea views.
Deluxe Ocean Front Rooms
The Buccaneer's most popular room sits right above the shore between the Grotto and Mermaid Beach. The Deluxe Ocean Front Rooms have high, 16-foot wood ceilings and large picture windows that create a frame for the beautiful Carribean Sea. Each room features a sitting room, a stone patio, and either beach is only a minute walk away. Options to expand Deluxe Ocean Front Rooms are available through connector guest rooms.
Luxury Beachside Doubloons
Named after the Spanish gold coins that would wash up on the shore from sunken ships, these guest rooms are located on the east side of Mermaid Beach. These private and luxurious, oversized villa-style rooms in the historic Buccaneer Hotel, have marbled floors, picture windows, balconies with dramatic views of the sea, fine furnishings, walk-in closets, whirlpool tubs, and separate showers making this a particular favorite for honeymoon guests.
Frigate Suites
A luxury suite with four-poster King bed in the master bedroom, a double shower, and separate tub. The sitting room has two daybeds and another full bath. The spacious patio overlooks the Grotto pool, beach, and sea. This room can connect to the Frigate Room and/or the Ficus Suite.
Ficus Suite
Located above Grotto pool, this generously-sized suite comes with 2 master bedrooms, one with a four-poster King bed, bath with whirlpool tub, and a separate shower. The second bedroom features a King four-poster bed and full bath. The suite also includes a kitchenette, dining area, and two sitting areas, and a third full bath for convenience and options for large families. Can connect to the Frigate Suite and Frigate Room for extra space.