The Cavalier Virginia Beach, Autograph Collection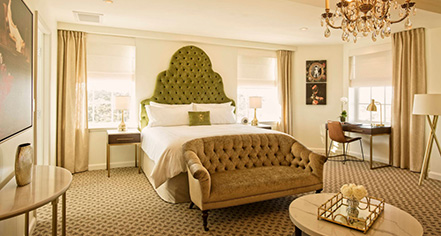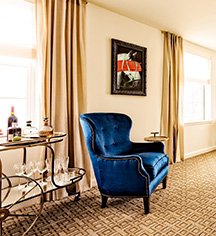 Accommodations
Guestrooms and suites at The Cavalier Virginia Beach, Autograph Collection in Virginia Beach are bathed in elegance reimagined. This iconic landmark has been renovated to create a mix of contemporary, modern style with classic architecture for a sophisticated experience. The 85 luxurious guestrooms and suites at The Cavalier feature astonishing views of the gardens, estate, and ocean, so guests can celebrate nature's beauty from the opulent comfort of their own accommodations. Plush fabrics, designer accents, and rich finishes create the perfect environment in which to unwind. Each guestroom and suite at The Cavalier has upscale amenities such as bathrobes, complimentary toiletries, complimentary WiFi, a minibar, and nightly turndown service. Steeped in history, the rooms at The Cavalier are the very definition of comfort, opulence, and leisure. The Cavalier also features six Heritage Suites, dedicated and decorated by those who helped make the revival of the hotel possible. Each of the Heritage Suites represents the unique personalities and heritage of these Cavalier Partners.
Accommodation Types Available
Deluxe Inland View King – This 400 square foot room has a plush king-size bed with expansive views of Virginia Beach, extravagant décor, and luxury amenities for the ultimate in relaxation.
Deluxe Garden View King – Featuring views of the gorgeous lush gardens, this room has a king-size bed, an oversized chair, as well as a spacious work desk for the business traveler.
Deluxe Partial Ocean View King – Relax in this 400+ square foot oasis on the lavish king-size bed, with views overlooking the crisp Atlantic Ocean.
One Bedroom King Suite – Fit for a king, this spacious suite features a king-size bed in a separate bedroom, with atrium views, and a convenient work desk.
Partial Ocean View One Bedroom King Suite – Take in beautiful ocean views in this one bedroom suite with a separate living area, comfortable furnishings, and a delightfully cozy king-size bed.
Oceanfront One Bedroom King Suite – A bedroom with a blissful king-size bed, a separate living area with unobstructed ocean views, all in over 700+ square feet means it doesn't get much better than this.
Oceanfront King Suite – Endless views, a cozy atmosphere, a comfortable king-size bed, and a separate living area with a plush sofa and easy chair mean relaxation is a priority in this suite.
Partial Ocean View King Studio Suite – This suite showcases blissful ocean views with a luxurious king-size bed and separate living area for flexibility no matter what is on the day's schedule.
Hospitality Suite – The Hospitality Suite has an elegant living space with dining or workspace room for up to six, a master bedroom and closet, a classic claw foot tub, and powder room for those who choose to host.
Legacy Suites – These suites pay homage to Virginia's maritime history and celebrate the reimagining of the new Cavalier with unique personalities and dispositions represented throughout.
Presidential Suite – Made for royalty, these large, luxurious suites offer up an oceanfront location in which to relax, recharge, or entertain, with plush furnishing, opulent, multiple bathrooms and a king size bed.
Heritage Suites
The Reidy Suite | Second Floor – Frank and Juliette Reidy decorated this suite with personal paintings and furnishings as a tribute to Juliette's Vietnamese heritage.
The Metzger Suite | Third Floor – George Metzger was inspired to create this room in honor of his parents, first generation German immigrants, complete with antiques and replicas from the 19th century and even personal effects and photography by George's father.
The Frye Suite | Fourth Floor – Bart Frye designed this suite as a celebration of his love of horses, and the equestrian history of the hotel's early days.
The Ruffin Suite | Fifth Floor – Edmund Ruffin was a lifeguard on Virginia Beach in the 1950s-60s, and this suite is dedicated to his fond memories of those days.
The Lawson Suite | Sixth Floor – Named after John Lawson, the general contractor of the hotel's renovation, this suite pays homage to the maritime and coastal history of Virginia.
The Thompson Suite | Seventh Floor

–

Named after Bruce Thompson, this suite is dedicated to the flappers of the Roaring Twenties and the big bands that came to The Cavalier.
Guestroom and Suite Amenities
Air-conditioning
Alarm Clock
Bathrobes
Coffee/tea maker
Daily housekeeping
Flat-screen TV with cable
Free cribs/infant beds
Free newspaper
Free toiletries
Free WiFi
Free wired Internet
Hair dryer
In-room safe
Iron & board
Minibar
Oversized easy chair
Pay movies
Private bath
Refrigerator
Rollaway/extra beds (surcharge)
Room service (limited hours)
Separate bathtub and shower
Sofa (select rooms)
Stunning views
Telephone w/voicemail
Turndown service
Work desk and chair