The Hotel Congress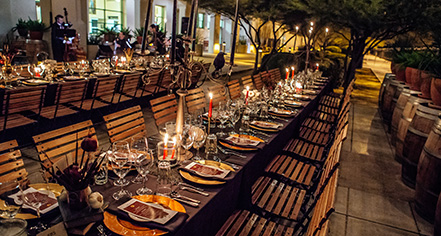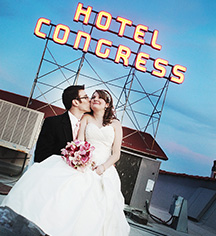 Weddings
The Copper Hall at Hotel Congress provides the perfect vintage Southwestern backdrop for couples who want a beautifully unique wedding or reception in Tucson.
Special Event Package and Pricing
Room rental is $1,050 for 4 hours until 12:00 a.m., and $200 for each additional hour. The package includes the following: private event space, set-up, clean-up, linens, glassware, serving ware, candles, tables and chairs, staffing, and bar set-up. Coffee and iced tea service is included. Additional equipment rental may apply.
Full Bar
The Hotel Congress can provide any event with a complete full bar that can include mixed drinks, beer, and wine; in any combination of hosted, semi-hosted, or cash. A hosted bar incurs 20% gratuity by the host. The hotel is proud to feature Refresh Glass, drinkware made from recycled wine bottles, for events in Copper Hall as part of its green initiatives which are a key component of the Hotel Congress' business.
DJ and Sound System
DJs and musicians gladly referred (prices vary). Copper Hall features an in-house dedicated sound system so you are able to complement your event with music of any style.
Decor
Guests are welcome to bring decorations for their event, however tape, hammers and nails, glitter, and confetti are not permitted in the venue.
All food and beverage, including liquor, must be provided by Hotel Congress.