The Lodge at Wakulla Springs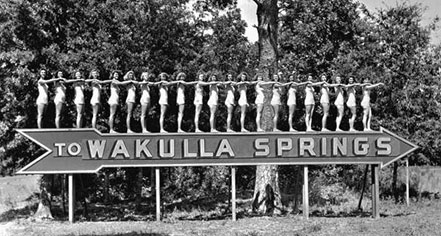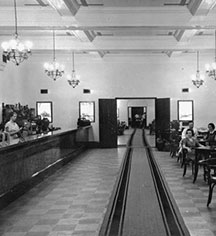 History
It was during the 1920s when financier Edward Ball was exploring the Florida panhandle, looking to purchase property on which to grow pulpwood. When he laid eyes upon Wakulla Springs, he "knew then that the area had to be preserved, but [] didn't know exactly how at the time."
In 1931, Ball acquired the Springs and Lodge site from the Christy brothers, who were operating a small restaurant where the hotel's boat dock currently stands. From creating the framework for the floor plan, to hiring the architects and materials, every aspect and detail were Ball's own ideas and concepts. Construction of the two-story hotel began in 1935, with doors opening in 1937.
Ball's preference was towards marble; specifically, marble mined from quarries in Tennessee. The world's longest known marble bar, at 70 feet 3 inches, is located in the hotel's Soda Fountain, an ice cream parlor and gift shop. The marble and iron staircase's three landings are also massive marble panels with face-matched grain cut from one block.
Heart cypress, the very interior of the cypress tree, is incorporated into several areas of the lodge, most notably in the Great Lobby. All of the cypress logs used in the Lodge are locally-sourced "dead heads," cypress that has lain in the water for 50 years or longer, rendering it impervious to rot. The lobby also features an ornate hand-painted ceiling, which is still in excellent condition nearly 80 years later.
In 1939, Edward Ball made a crucial hiring decision that would enhance the prestige of his beloved lodge. Newton Perry, a famous swim coach, was hired to manage the Lodge. Perry is credited with making the Hollywood connection, leading to classic films being filmed on site including Creature from the Black Lagoon and some of the early Tarzan movies. Many of the early Tarzan films starring Johnny Weissmuller were filmed in the late 1930s; Weissmuller was one of the world's fastest swimmers in the 1920s, winning five Olympic gold medals for swimming and one bronze medal for water polo.
Wakulla Springs has been designated by the U.S. Secretary of the Interior as a National Natural Landmark, the State Park is listed in the National Register of Historic Places in 1993, and a major discovery of a significant Paleo-Indian archeological site in 1995 have all enhanced The Lodge at Wakulla Springs' reputation and history. The Lodge at Wakulla Springs aims to stay true to Edward Ball's vision by consciously preserving the land, focusing on nature conservancy, and maintaining an atmosphere of serenity and peace for guests, while honoring the glamour and style of Florida's golden age.
The Lodge at Wakulla Springs, a member of Historic Hotels of America since 2016, dates back to 1937.