The Middlebury Inn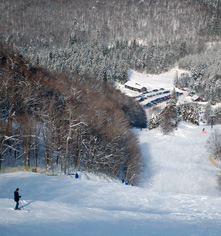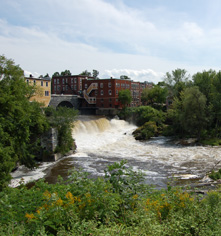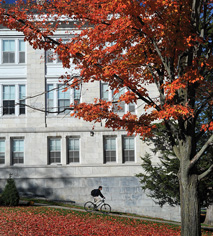 Activities & Events
Surrounded by the natural landscape and vibrant scenery, The Middlebury Inn is situated in Middlebury, Vermont, in the heart of Addison County. Known as the "Land of Milk and Honey," Addison County boasts exciting and authentic Vermont attractions, lending a unique perspective into the history and culture of the region.
"Made in Vermont" Attractions
Middlebury Arts
Danforth Pewters
Watch Vermont artists create handcrafted pewter jewelry and tableware with spinning lathes and molds at Danforth Pewter. Just a short walk from The Middlebury Inn, the gift store is a convenient and charming attraction for guests staying at the hotel.
Holy Cow
Best known for the iconic Holstein cows used by Ben & Jerry's Ice Cream, Woody Jackson is an acclaimed oil and watercolor painter. Boasting a gallery displaying beautiful pieces depicting Vermont bars, fields, and mountains, Holy Cow celebrates the work of the local artist. A gift shop is available to purchase original paintings, prints, posters, and gifts based on Woody Jackson designs.
Middlebury College Museum and Middlebury College Center for the Performing Arts
As the campus town hotel, The Middlebury Inn is a convenient destination to enjoy Middlebury College's vibrant cultural offerings. Visitors can explore the campus museum where they will find antiques, European and American paintings, sculpture, photography, prints artifacts, and other artwork from its permanent collection. Located in a whimsical building, The Performing Arts Center boasts a variety of vibrant productions, including dance, theatrical, and musical.
Middlebury Town Hall Theatre Originally built in 1884, the recently restored theatre features live stage performances by local and regional acts.
Vergennes Opera House Hosting moving live performances, the Vergennes Opera House is a historic landmark, built in 1897, in the oldest city in Vermont.
Vermont Folklife Center Boasting contemporary art, Vermont Folklife Center serves as an exciting living archive of family stories and folklore.
Fun & Education for All Ages
Birds of Vermont Museum
Displaying over 450 lifelike carvings by Bob Spear, the Birds of Vermont Museum is an impressive and educational exhibit of Vermont's nesting, endangered, extinct birds. Visitors can explore the nearby pond, flowing streams, and 100 acres of surrounding nature trails.
Chimney Point State Historic Site
A brick tavern in the late 1700s century and a summer resort in the late 19th century, Chimney Point State Historic Site is a state-owned landmark. Situated at the foot of the Champlain Bridge, the site exhibits Champlain Valley's Native American and French history and culture.
Fort Ticonderoga
A restored 18th century military fortress, Fort Ticonderoga features reenactments, guided tours, a museum, daily musket demonstrations, and self- guided tours.
Henry Sheldon Museum of Vermont History
Opened in 1884 by collector Henry Sheldon, the Henry Sheldon Museum of Vermont History features a collection of Vermont's premier collections of furniture, paintings, documents, and artifacts. Situated in a Federal-style house built in 1829, the institution is the oldest community museum in the nation.
Lake Champlain Maritime Museum
Known as the most historic body of water in the continent, Lake Champlain is a beautiful natural wonder, featuring an fun and educational museum depicting its history. Along with historic exhibits, maritime collections, a nautical archaeology lab, and boat building courses, the museum's replica of the 54-foot Revolutionary War gunboat Philadelphia II is its most popular display.
New England Maple Museum Take a journey through Vermont's Maple Sugaring History. Tour the maple sugaring museum, visit the tasting room, and then take a trip down "sugaring lane" for a slide show in the theater. Afterwards stroll through the gift shop for maple products and unique Vermont crafts, books and specialty foods.
Robert Frost Homestead
The famous American poet Robert Frost taught at Middlebury College and lived in a cabin in the area for 23 summers. Walk the Robert Frost Interpretive Trail, located near Middlebury College Bread Loaf School of English, where you'll find several plaques of Frost's poems, history and the management of the trail and its surroundings.
Shelburne Farms
Shelburne Farms is a 1,400-acre working farm and national historic site. During the warmer months, enjoy apple picking, hayrides, property tours and a children's farmyard.
Shelburne Museum
When you stay with us, you'll experience one of the best inns near Shelburne Museum, offering a premier collection of American folk art, paintings, crafts and more. Includes 45 acres of exhibit areas, galleries, a Museum Shop, furnished period homes, other relocated historic buildings, and the SS Ticonderoga, the last operating passenger steamboat on Lake Champlain.
University of Vermont Morgan Horse Farm
The Morgan horse is Vermont's state animal, and the state's first breed of horse. Tour the barns, view horses in the pasture, watch the training, and learn the history of the Morgan Horse at this farm listed on the National Register of Historic Places.
Festivals & Annual Events
Middlebury hosts several festivals and cultural events throughout the year.
Winter Carnival – February
Maple Open House Weekend – March
BMO Chili Contest - March
Memorial Day Parade – May
Vermont Quilt Festival – June
Festival on the Green – July
Vermont Brewer's Festival – July
Addison Co. Fair– August
Champlain Valley Fair – August
Vermont State Fair – September
Middlebury College
Less than a mile away from the prestigious liberal arts institution Middlebury College, The Middlebury Inn is the ideal hotel for events, tours, or visits at the school. Visitors can enjoy the beautifully manicured landscape and admire the stunning architecture or visit the college's Museum of Art or Performing Arts Center.