The Mission Inn Hotel & Spa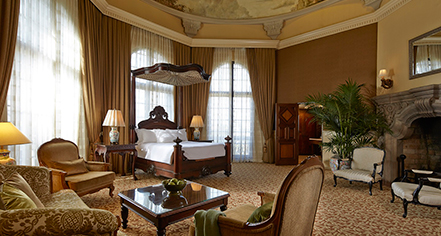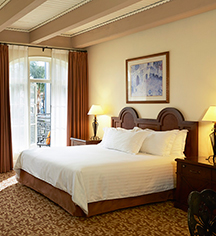 Guest Rooms
The Mission Inn Hotel & Spa boasts a variety of guest rooms, with many including spacious balconies, and each affording plentiful space for travelers to indulge in complete relaxation.

Mission Room
Grand in size and style, the property's Mission Rooms are found on the top level of the hotel and capture the breathtaking views exclusive to The Mission Inn Hotel & Spa. Each Mission Room is a retreat from the hustle and bustle of the city's atmosphere and boasts approximately 350 to 560 sq ft.

Glenwood Room
Located primarily on the hotel's third floor, each Glenwood Room presents spacious floor plans, approximately 350 to 520 sq ft, and scenic views. For added space and utmost relaxation, outdoor seating and entrances are afforded to travelers.
Raincross Room
Each of the hotel's Raincross Rooms offers a relaxing ambiance. With approximately 300 – 420 sq ft of space, each accommodation features comfortable furnishings and a tranquil retreat.
Deluxe Room
Situated throughout the first and second floors, The Mission Inn's Deluxe Rooms feature spacious balconies in addition to 250 to 400 sq ft of interior space.
Guest Room Amenities
Lavish Kelly's Spa Signature Bath Amenities and Soy Based Candles
Ultra-Plush Mission Inn Signature Bathrobes
Plush Bedding
Sitting couch or chair
Wall safes large enough for lap-top computers
Two line Telephones with Voicemail
Computer and fax hookups; network data port
42-inch flat panel televisions with HDTV Channeling
Mini bar
Iron and ironing board
In-Room Keurig Coffee maker
Crib, pack 'n' play, and childproofing kit available upon request
Work Desk and Chair
Wireless Internet access (Complimentary in lobby and pool area)