The National Hotel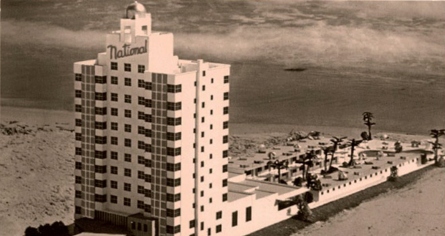 History
Since it was built, the National Hotel Miami Beach has drawn a sun-seeking crowd of socialites and celebrities from the 1950s to South Beach revivalists of the 1970s. Fun and entertainment are never far with restaurants, cafes, and nightlife around every corner from the front door of this iconic Miami Beach Art Deco hotel.
The National Hotel owes its classic Art Deco style and iconic 14-story tower to Roy France, the man who essentially created the Miami Beach skyline. Originally from the Midwest, France relocated to Miami Beach after a trip to Florida with his wife in 1931.
His motto for designing hotels along Florida's coast, which holds especially true for the National Hotel's unique style was, "Let in the air and sun. That's what people come to Florida for."
Even today, the National Hotel continues to stay true to France's philosophy as well as his inspired design. Renovations in recent years have faithfully maintained the Art Deco feel of the hotel's interiors while also implementing modern amenities and features for today's travelers.

The National Hotel, a member of Historic Hotels of America since 2010, dates back to 1939.