The Nittany Lion Inn of the Pennsylvania State University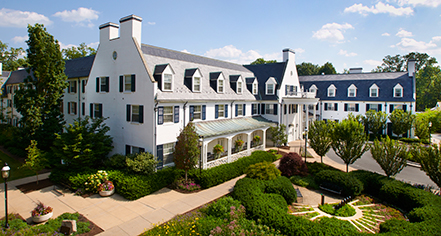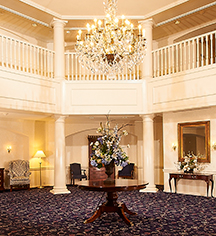 Overview
Located on the grounds of Pennsylvania State University, The Nittany Lion Inn offers comfort, conveniences, and style to guests and visitors alike. Decorated in warm antiques with a Colonial country atmosphere, rich cherry-wood furniture, and bright floral fabrics, the historic Inn has hosted the likes of Presidents Eisenhower and Johnson, Eleanor Roosevelt, Helen Hayes, and Louis Armstrong.
Built in 1931, the Nittany Lion Inn features 223 non-smoking guestrooms, The Dining Room, Whiskers Lounge, fitness room, and two 18-hole golf courses. Within walking distance from downtown State College and driving distance from the scenic County Centre region, the Inn's central location makes it a popular place to stay.

The Nittany Lion of the Pennsylvania State University, a member of Historic Hotels of America since 2000, dates back to 1931.
The Inn has hosted Presidents Dwight Eisenhower and Lyndon Johnson, First Lady Eleanor Roosevelt, film star Helen Hayes, and jazz great Louis Armstrong.
Original Property Opened: 1940
Historic Hotels of America toll-free reservations number +1 800 678 8946

Location
200 West Park Avenue
State College, PA 16803

Check-in time: 4:00 p.m.
Check-out time: 11:00 a.m.


Hotel Amenities & Policies
Accessible Rooms: Accessible rooms are available. Please notify request at time of booking.
Adjoining Rooms: Not available.
Age Requirements: Guests are required to be 21 years or older with photo identification to reserve a room and check-in.
Airport Transportation: Not Available.
ATM
Cancellation Policy: Cancellations must be made 48 hours prior to arrival.
Cribs and Pack-in-Plays: Available upon request; complimentary.
Deposit: First night deposit required at time of booking.
Early Check-In/Late Check-Out: Available, depending upon availability.
Extra Person Fees: $15, maximum one extra person per room.
Hotel/Resort Fees & Taxes: All reservations may subject to a tax of 13%.
Occupancy Restrictions: 2 adults per room; additional fees apply for extra guests.
Parking: Self-parking: Available; subject to seasonal fees. Valet parking: Not available.
Payment: Visa, MasterCard, Amex, Diners Club, and Discover are accepted.
Pet Policy: Service animals: Please contact hotel. Pets allowed: No.
Rollaways: Available upon request; $15 per night.
Smoking Policy: Rooms are smoke-free. Designated smoking areas on property.
The above list may not be comprehensive and information is subject to change without notice. Fees and deposits may not include tax. Taxes, fees, deposits, and policies are subject to change without notice.