The Nittany Lion Inn of the Pennsylvania State University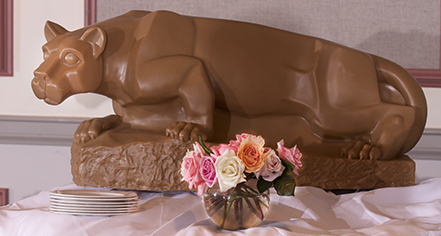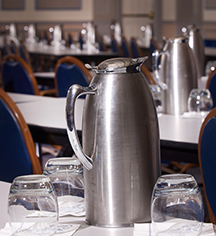 Meetings & Groups
As a college campus hotel, The Nittany Lion Inn receives constant, steady traffic and is host to many a business luncheon, conference, wedding reception, or anniversary party that may happen in this microcosm of society. By this point, its reputation for rock solid service makes The Nittany Lion Inn the ideal place for such an event with 20,000 sq ft of flexible space, an elegant ballroom, and a skylit atrium to create a grand, yet welcoming atmosphere for groups large and small.
The Ballroom
Accommodates up to 500 guests or can be split into 5 smaller meeting rooms. Ideal for conferences, luncheons, and wedding receptions.

The Faculty Staff Club
The art of conversation is not dead in this room that blends warmth, beauty, and function. A cozy, living-room type atmosphere and ideal for intimate occasions such as a special gathering, conference, or dinner. 3,900 sqft and seats up to 130 guests.

The Boardroom
Flexible, versatile space that is elegantly syled and ready for any function at 3,468 sq ft and accommodates up to 250 guests.

The Penn State Room
A unique, historically elegant room with traditional decor and detailed, hand-painted scences of Penn State history. 1600 sq ft and seats up to 80 guests.

The Mount Littany Room
Ideal space for small gatherings, banquets, or board meetings. Seats up to 50 guests.

The Alumni Fireside Lounge
The rich wood tones and cozy fireplace make this room a classic Penn State meeting location. It's the optimal place for an intimate social or business gathering, and it can be set up for dinners or board meetings.
Corporate Retreats
The Inn offers a variety of Corporate retreat options to meet all your conference and meeting needs. Customized corporate retreats such as kayaking, scavenger hunts, a night all the ball park, or a motivational speaker all all available.