The Peabody Memphis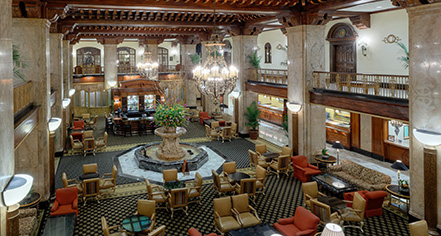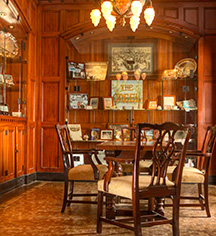 History
Following the turmoil of the Civil War, the city of Memphis, like much of the South, set about the daunting task of rebuilding. In 1869, Colonel Robert C. Brinkley opened a lavish hotel on the corner of Main and Monroe Streets in downtown Memphis. It boasted 75 rooms with private baths, a ballroom, saloon and lobby. Brinkley intended to name the grand structure after himself, but just as the hotel was about to open, he received word of the death of his dear friend, philanthropist George Peabody, who financed the development of a rail system from Memphis to Charleston. To honor his friend's memory and generosity, Brinkley christened the new hotel, The Peabody.
The original Peabody closed its doors in 1923 to make way for a department store. It was replaced two years later with the present structure on Union Avenue. The Italian Renaissance building was designed by Chicago architect, Walter W. Ahlschlager and upon opening, became the preferred gathering place for Memphis business bigwigs and socialites. Presidents Andrew Johnson and William McKinley and Confederate Generals Robert E. Lee, Nathan Bedford Forrest and Jubal Early were guests. The Peabody was a place where plantation owners could rub elbows with professional gamblers and steamboat captains.
In 1932, general manager Frank Schutt and his pals returned from a hunting trip and decided to let their live duck decoys take a swim in the hotel's lobby fountain. Their lighthearted lark was an enormous hit that lead to the creation of the March of The Peabody Ducks - a cherished Memphis tradition that continues to this day.
The hotel continued to serve as the business and social center of the Mid-South throughout the 1930s and 1940s, hosting one of only three national live-radio broadcasts on CBS. The Plantation Roof and adjoining Skyway Room were popular spots for big band music and dancing to the sounds of Tommy Dorsey, Harry James and the Andrews Sisters. In the 1970s Memphis, like much of the country, experienced a period of urban decline. A series of small fires and ownership changes, coupled with declining occupancy and downtown business, forced The Peabody to close.
In 1975, The Peabody was purchased by the Belz family, who embarked on a six-year, $25 million dollar renovation to return the hotel to its former glory. The Peabody reopened on September 1, 1981, quickly regained her status as the "South's Grand Hotel."
The Peabody Memphis, a member of Historic Hotels of America since 1996, dates back to 1869.
*****
Guest Historian Series
Read more about the history of The Peabody Memphis, as told by Historic Hotels of America 2014 and 2015 Historian of the Year Stanley Turkel. Excerpt is taken from his latest book Built to Last: 100+ Year-Old Hotels East of the Mississippi (AuthorHouse 2013).