The Raphael Hotel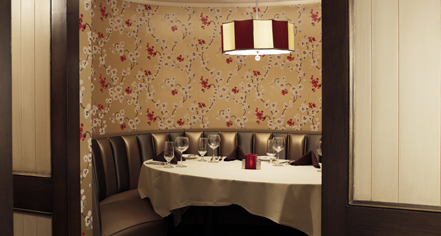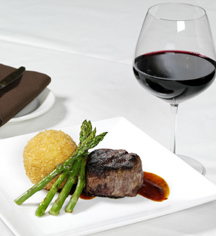 Dining
Chaz on the Plaza
Chaz on the Plaza welcomes local dining enthusiasts and visitors alike to a culinary experience that is uniquely Kansas City. The signature restaurant of The Raphael Hotel is strikingly bold, holding a special place in the hearts of Kansas City foodies.
The interior design scheme of polished granite, natural walnut finishes, and softly sophisticated colors take energy from bold splashes of red and touches of "bling" throughout. Eyes are drawn to an original floor-to-ceiling mural that incorporates a photographic montage of Plaza landmarks and custom-designed, translucent acrylic panels in varying shapes that are enhanced by digital graphic images.
Chaz offers an upscale and intimate atmosphere and serves a distinctive brand of modern American cuisine. The innovative menu features a seasonal variety of regional Kansas City fare with the chef's personal touches. The playful mix of styles and cuisines adds zest and zing to a sumptuous variety of hand-cut prime aged beef, lamb, seafood, and vegetarian dishes, all artfully plated. A well-edited list of wines from regional and international vintners complements Chaz culinary offerings.
The menu regularly features specials, based on fresh and seasonally available ingredients from the Kansas City farmers' markets. A tempting dessert menu features a decadent variety of Kansas City's guilty pleasures. Whether entertaining business colleagues or simply wanting an unforgettable culinary experience, Chaz on the Plaza is a treat for the senses.
Breakfast
Monday to Friday, 6:30 a.m. – 10:30 a.m.
Weekend Jazz Brunch
Saturday & Sunday, 7:00 a.m. – 2:00 p.m.
Live Jazz, 10:00 a.m. – 1:00 p.m.
Lunch
Monday to Friday, 11:00 a.m. – 3:00 p.m.
Saturday & Sunday Brunch, 7:00 a.m. – 2:00 p.m.
Dinner
Monday to Thursday, 5:00 p.m. – 10:00 p.m.
Friday & Saturday, 5:00 p.m. – 11:00 p.m.
Sunday, 5:00 p.m. – 9:00 p.m.
Room Service
24 hours
Chaz Lounge
After a delightful meal at Chaz on the Plaza, settle in, relax and unwind in one of the most comfortable and atmospheric lounge venues in Kansas City, Missouri. Chaz Lounge offers an energetic and unique music room with live entertainment - from classic jazz to contemporary sounds - Tuesday through Sunday evenings, where music and romance always fill the air.
Hours of Operation
Monday to Saturday, until 12:00 a.m.
Sunday, until 10:00 p.m.
Happy Hour
Monday to Friday, 4:00 p.m. – 6:00 p.m.
Featuring drink specials and half-price appetizers