The Raphael Hotel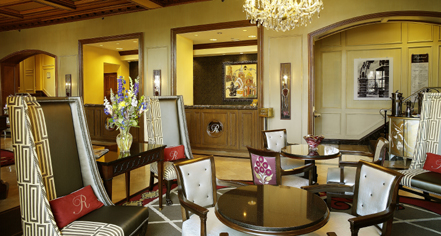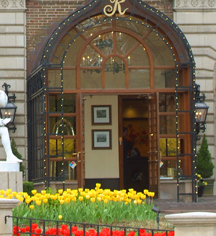 History
The Raphael Hotel, Kansas City's historic boutique hotel, originally opened in 1928 as the Villa Serena Apartments, built to attract the city's affluent residents. The landmark building's ornate Italian Renaissance Revival-style was chosen by Alonzo Gentry, a noted architect of the early 1900s, as a Mediterranean complement to the nascent Country Club Plaza. The building remains Kansas City's most recognized example of the architectural style.
The nine-story brick structure was purchased by the J.C. Nichols Company, developer of the Country Club Plaza, in 1974 to be re-purposed into a hotel patterned after the elegant, small hotels of Europe. It was reborn The Raphael Hotel in 1975, following a renovation that faithfully preserved its vintage style and classic design, while providing for the modern comforts expected by contemporary travelers. The hotel's immediate success helped pioneer the now-popular niche, the boutique hotel. The concept, revolutionary at the time, was designed to create an individualistic hotel with European charm, character, and intimacy, while offering personalized service and exceptional value.
The Raphael was purchased in July 2005 by Lighthouse Properties, the hotel and hospitality management company owned by the Walker family of Salina, Kansas. In 2006, management began the most extensive restoration of the property since its original conversion. The renovation, including all new infrastructure and decor, was completed in 2010 at a cost greater than its original development and construction, in equivalent dollars. The building's original brick exterior and wood-paneled ceilings in the hotel lobby were carefully preserved. The 41 guestrooms and 85 suites retain the classical style rooted to the building's late 1920s origins, while seamlessly including such modern amenities as HDTV and complimentary high-speed internet access. The company has continued to upgrade the property with maintenance and cosmetic changes to give guests a heightened sense of place.
The Raphael received the distinguished AAA Four Diamond Award and the noted Forbes Travel Guide Four Star rating. It was voted to the prestigious 2015 T+L 500 World's Best Hotels by Travel + Leisure magazine readers, and awarded the TripAdvisor Certificate of Excellence Hall of Fame Award for constantly achieving outstanding traveler reviews for five consecutive years. The Raphael Hotel was listed on the National Register of Historic Places in 2009.
The Raphael Hotel sits at the heart of Kansas City's Country Club Plaza district, just steps away from world-class shopping and entertainment.

The Raphael Hotel, a member of Historic Hotels of America since 2001, dates back to 1928.