The Sherman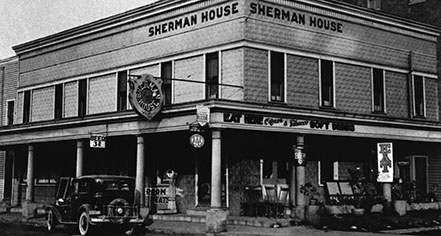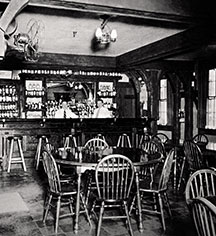 History
The Sherman, previously The Sherman House, is one of the oldest buildings in Indiana and was comprehensively, but gracefully renovated to retain the building's origins as a coaching tavern. Always a place to stay or dine, The Sherman has been a favorite destination for weary and hungry travelers since the time of Lincoln.
German immigrant Johann F. Brinkmann built The Brinkmann House in 1852 as a modest hotel next to the railroad depot (since demolished). The building expanded into its current size over time. The original two-story frame building featured clapboard siding and shuttered six-over-six double hung windows, the current lobby, kitchen, restaurant, and today's Rhine room. An outside stairwell provided access to upstairs guestrooms.
Brinkmann renamed his hotel in 1865 in recognition of General William T. Sherman and the 83rd Indiana Volunteer Infantry, who participated in Sherman's Civil War "march to the sea." The name remained The Sherman House from 1865 until 2017 following renovations when the name was modified to The Sherman.
At least seven individuals, including a Mrs. Obergfell who won a lawsuit in 1887 to gain possession, owned the building before August Bloemer purchased it in 1900; he owned it for ten years. Porches added in 1912 transformed the building into a favorite lounging spot for patrons as well as travelers awaiting trains. During this time, the building housed about 35 regular boarders and hotel guests.
In 1923, John Hillenbrand purchased the property and over the next decade, four additional buildings were connected to form a single structure. The architect on the project between 1923 and 1933 retained most of the original timber frame of yellow poplar girders, 30 inches by 90 feet, which were in perfect condition after 80 years and are still in place between the first and second floors. In 1953, the corner restaurant was modeled after European café drawings. Hoosier artist W. Harold Hancock fashioned murals on the interior walls, which were restored in 2016.
Renovations in 2016 led by Georg Heringer of Bavaria strengthened the German heritage and reestablished the building as a central facility of commerce, travel, and social life. With updated utilities, remodeled guestrooms and the additions of the Black Forest Bar and Sherman Biergarten, the Sherman House is still a favorite stopping place of travelers and the most talked about dining spot in Southern Indiana.
The Sherman, a member of Historic Hotels of America since 2017, dates back to 1852.