The Terrace Hotel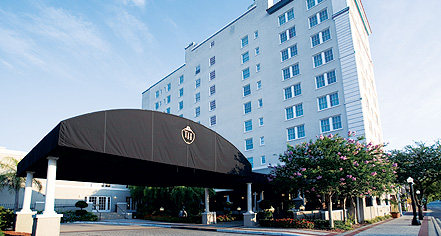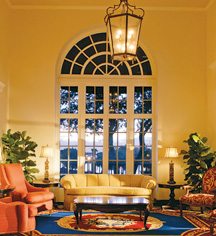 History
The city of Lakeland was incorporated in 1885. A man by the name of Abraham Munn founded the town on 80 acres of land, that now makes up downtown Lakeland. For a short time, Lakeland had an arch-nemisis on the south side of Lake Parker - the town of Acton. Acton had a church and a train depot before Lakeland.
Under "mysterious circumstances", the train depot in Acton burned down and a new one was erected in Lakeland. Acton was no longer a town by 1906 and Lakeland was booming.
The Terrace Hotel opened in 1924 as one of the state's first year-round hostelries. Thanks to the advent of air-conditioning, hotels were no longer forced to close for the summer due to stifling heat. The opening of The Terrace Hotel was met with widespread acclaim throughout Lakeland and beyond. Word spread of the impressive floor-to-ceiling arched windows and intricately patterned cypress wood ceiling in the lobby.
At a cost of $750,000 to build, The Terrace Hotel boasted classic South Florida furnishings, a gleaming black and white tile floor, and elaborate crystal chandeliers imported from a palace in Italy. For four decades, The Terrace Hotel thrived before it fell into decay and disrepair.
The 1970s saw it become a long-term housing facility and it eventually became overrun with transients before it closed permanently in 1986. It was resurrected in 1998 after careful restoration. It played an integral role in the revitalization of Lakeland's downtown historic district.

The Terrace Hotel, a member of Historic Hotels of America since 2008, dates back to 1924.