The Virginian Lynchburg, Curio Collection by Hilton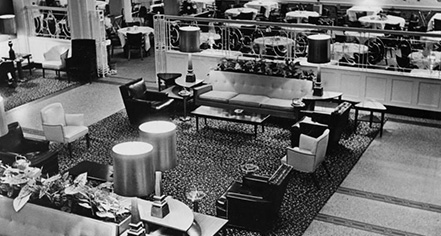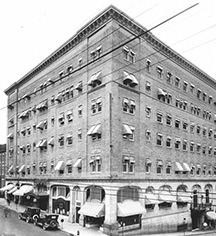 History
The Virginian Lynchburg, Curio Collection by Hilton first opened as The Virginian in April 1913. Verus T. Ritter of architecture partnership Ritter & Shay, designed the five-story Classical Revival hotel. Architect Stanhope S. Johnson designed two additions to the hotel: in 1927 the sixth floor was added, and in 1929 the six-story north wing was added. Ornate features such as the arched windows on the first floor have been carefully preserved through today, while others such as the lobby's 30 foot barrel vaulted ceilings, majestic marble staircase, wrought iron banister, and curved skylights were carefully restored in 2017.
During its years of popularity and prosperity, the hotel hosted glamorous public and private events. Downtown Lynchburg and the hotel struggled in the 1960s, with the hotel ultimately closing. After being auctioned off in 1969, it was converted to the Stewart Arms Hotel. Liberty Baptist College, now Liberty University, bought the hotel and transformed it into their first dorm in 1972. It was a part of the university until 1981. In 1983, the upper floors of the building were renovated into low income housing using Section 8 funding. The renovations resulted in the elegant first floor being enclosed and used for storage.
According to Hilton Worldwide, The Virginian Lynchburg, Curio Collection by Hilton is a part of a Renaissance of the city. "The Virginian Lynchburg… located at 712 Church Street in downtown Lynchburg, within walking distance of the James River, Amazement Square Children's Museum, the Lynchburg Museum and the Blackwater Creek Natural Area. In addition, The Academy of Fine Arts will complete the restoration of a 1905 historic theatre in early 2018, providing a unique entertainment destination that is only one block away. The city will convert 8th Street between Church Street and Main Street from a one-way street to a two-way street, to accommodate construction access during the renovations and for added convenience to the visiting public once the hotel is complete."
The Virginian Lynchburg, Curio Collection by Hilton, a member of Historic Hotels of America since 2018, dates back to 1913.