Timberline Lodge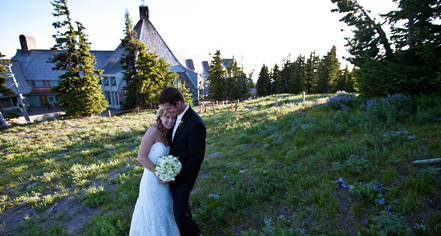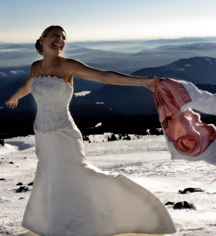 Weddings
With its glorious setting boasting sweeping views of the majestic Cascade Mountains and Mt. Hood, Timberline Lodge affords a romantic location for a storybook wedding. Timberline Lodge's rustic charm, various reception and ceremony venues, authentic furnishings, comfortable accommodations, and refined cuisine will ensure an unforgettable experience for this momentous occasion.
Professional planners and Timberline Lodge's Executive Chef Jason Stoller Smith will assist in executing the perfect ceremony, reception, menu, decorations, and every last detail of this enchanting festivity. From intimate to grand, weddings at Timberline Lodge are customized to match the needs and style of every celebration, guaranteeing unrivaled service and personal luxury.
Venues
Ideal for ceremonies accommodating up to 130 guests, or receptions up to 80, the Barlow Room is situated in the Rachel Griffin Historic Exhibition Center and features vintage, carved linoleum panels depicting outdoor sports and activities on Mt. Hood.
With the Cascade Mountains sweeping the backdrop, the Patios and Amphitheater boasts an unparalleled romantic location for any wedding. The beautiful historic Patios and Amphitheater can seat up to 250 guests.
A fine-crafted cabin a mile above Timberline Lodge, Silcox Hut is an intimate space with the rustic charm authentic to the beautiful Pacific Northwest landscape. The Silcox Hut is the perfect location to host an intimate ceremony and reception, with seating up to 40 guests and sleeps up to 24.
Situated in the C.S. Price wing, Ullman Hall can accommodate up to 200 guests and is thoughtfully-appointed with iron light fixtures, an attached patio, and built-in dance floor.
Affording the grand vaulted ceilings with skylights, iron sculpture, and built-in dance floor, the historic Raven's Nest is a coveted venue to host ceremonies with up to 150 guests or receptions up to 70.
Across from the Timberline Lodge, the casual Wy'east Hall at Wy'east Lodge offers spectacular views, an attached deck, and built-in bar that comfortably seats 220 guests.