Tubac Golf Resort and Spa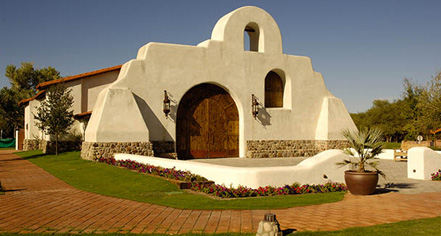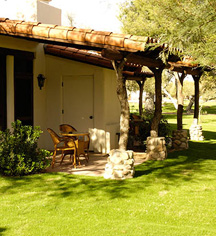 History
1789 - The King of Spain granted 28-year-old Don Toribio de Otero the first land grant for a house and four farming lots in the Spanish territory of Primeria Alta. To show his appreciation, Otero planted fruit trees around the estate and provided soldiers with supplies and arms, and took care of their horses. Otero and his family maintained the modest farm and established the foundation for what later became the largest cattle empire in Arizona.
1853 - Primeria Alta was brought into the United States as part of the Gadsden Purchase, which included present-day southern Arizona and southwestern New Mexico, in a treaty signed by President Franklin Pierce on June 24.
1861 - During the American Civil War, the estate was briefly under control of the Confederacy. With an absence of troops surrounding the presidio, the estate experienced numerous attacks by the Indians, which caused the Otero family to fear for their safety. By this time, Toribio Otero's 19-year-old grandson, Sabino, had become head of the family and had guided his family across the border to Buzani. It was in Buzani where the Otero family learned to raise cattle.
1870 - When the Otero family returned to Arizona, Sabino began to establish his cattle farm by building up his herds. He supplied various other presidios that were established to fight Geronimo and the Apaches. With the railroad expansion, ranching became incredibly profitable. A notable citizen of the Tucson community, Sabino soon earned the esteemed title "Cattle King of Arizona" on both sides of the border.
1914 - Sabino died and his younger brother, Teofilo, inherited this vast estate, which included seven ranches. However, due to a series of droughts and increased competition, Teofilo sold all the ranches, except the old family land grant, and began to travel and indulge in an lavish lifestyle. Despite his extravagant taste, Teofilo remained a loyal citizen of his village and deeded a parcel of land for a new schoolhouse that still stands near the old presidio.
1941 - Teofilo died and the ranch changed owners several times, including Joanna Shankle Davis, an early aviator who flew in the famed Women's Air Derby of 1929, and colorful local banker and real estate baron Wirt Bowman.
1959 - A group of businessmen headed by the late, great Bing Crosby (who was an avid golfer) acquired the Otero Ranch and began the operation that today is Tubac Golf Resort & Spa. They painstakingly preserved the historic integrity of the original presidio, and today the presence of generations of Oteros can still be felt throughout the property.

Tubac Golf Resort and Spa, a member of Historic Hotels of America since 2008, dates back to 1959.