Washington Hilton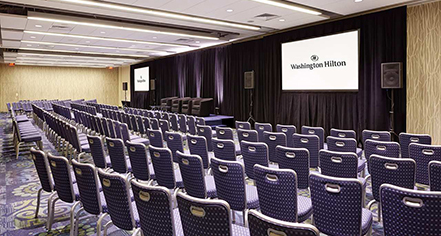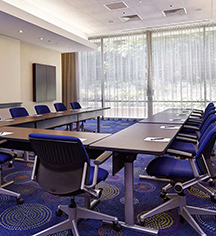 Meetings & Groups
A historic DC hotel, Washington Hilton is the ideal place to hold receptions, meetings, and events in the nation's capital. Boasting a total of 110,000 sq ft of flexible indoor and outdoor meeting space, the historic hotel ensures that hosting corporate events, industry conferences, and celebratory gatherings are simplified and successful.
Explore the Meeting Rooms and Venues at Washington Hilton
Small Meetings
The nine executive meeting spaces in Washington Hilton's IACC-inspired Heights Executive Meeting Center are the ideal rooms for small meetings and business conferences alike. Enjoy amenities such as sound-resistant walls, wide windows teeming with natural light, comfortable chairs, and modern A/V technology. The all-inclusive day meeting packages are available to guests as well, while a well-versed event planner will oversee catering, room configuration, and more to ensure a leisurely meeting environment.
Conferences and Conventions
With the largest hotel ballroom in the nation's capital, this DC hotel boasts the ideal location for social events and business conferences alike. With 36,000 sq ft expanding across the column-free ballroom, over 4,000 guests can listen to the presentations or mingle in this grand space. The high ceilings, plush chairs, and bright color scheme make for a truly stunning environment for high-scale events.
The Connecticut Avenue Collection is another fabulous feature of this hotel. Combining the Washington Hilton and two nearby hotels, more than 380,000 sq ft is available for conferences, exhibition space, and more. The surrounding historic areas and urban neighborhoods only add to the energetic atmosphere.
Special Events
With 110,000 customizable sq ft at this historic DC hotel, the contemporary space features registration areas, pre-function coat check, and an exclusive VIP entrance. Whether taking advantage of the stunning outdoor venue space complete with the glittering DC skyline or utilizing the 48 foot hydraulic stage and other modern lighting and A/V amenities, special occasions are perfected at the Washington Hilton hotel.
Event Space Chart:

Heights Exec Meeting Center



Holmead


1,382
49 x 35 x 10'7 ft
78/48
138
120
160
40
40
-

Holmead West


643
22 x 33 x 10'7 ft
-/28
45
-
76
22
22
24

Holmead East


735
27 x 35 x 10'7 ft
-/28
51
-
84
22
22
24

Jay


618
24 x 32 x 10'7 ft
-/28
52
-
72
22
22
24

Kalorama


1,393
50 x 33 x 10'7 ft
72/48
135
120
162
40
40
-

Morgan


710
26 x 33 x 10'7 ft
-/28
48
-
82
22
22
24

Northwest


618
25 x 32 x 10'7
-/28
42
-
73
22
22
24

Oak Lawn


706
26 x 32 x 10'7
-/28
48
-
80
22
22
24

Piscataway


643
24 x 32 x 10'7 ft
-/28
42
-
74
22
22
24

Heights Courtyard


11,200
328 x 28 ft
-
-
700
840
-
-
-

Heights
Courtyard Center


5,544
126 x 44 ft
-
-
290
320
-
-
-

Heights Courtyard East


2,520
90 x 28 ft
-
-
140
200
-
-
-

Heights Courtyard West


3,136
112 x 28 ft
-
-
290
320
-
-
-

Terrace Meeting Rooms



Albright


505
25 x 19 x 10'8 ft
21/14
40
20
58
22
21
24

Boundary


457
23 x 10 x 10'8 ft
-
-
-
-
10
-
-

Cardozo


706
34 x 17 x 10'8 ft
30/20
80
50
81
28
29
36

DuPont


555
25 x 20 x 10'8 ft
27/18
45
40
64
22
26
30

Embassy


550
25 x 20 x 10'8 ft
33/22
54
40
63
22
26
30

Fairchild


1,099
50 x 20 x 10'8 ft
60/40
95
80
126
46
38
60

Fairchild West


547
25 x 20 x 10'8 ft
30/20
45
40
63
22
24
30

Fairchild East


552
25 x 20 x 10'8 ft
30/20
45
40
63
22
24
30

Gunston


1,185
50 x 20 x 10'8 ft
66/44
108
80
136
48
38
56

Gunston West


556
25 x 20 x 10'8 ft
33/22
58
40
64
28
24
28

Gunston East


629
25 x 20 x 10'8 ft
27/18
54
40
72
22
24
28

International Terrace


10,345
270 x 50 x 10'4 ft
-
-
430
1,800
-
-
-

Terrace Foyer


9,807
-
-
-
-
-
-
-
-

Coats


689
35 x 20 x 8 ft
30/20
40
50
-
28
32
38

Convention Office 4


90
10 x 9 x 8 ft
-
-
-
-
-
-
-

Convention Office 5


90
9 x 10 x 8 ft
-
-
-
-
-
-
-

Columbia


30,000
- x - x 11-15 ft
-
2,960
2,180
3,448
-
-
-

Columbia North


5,228
187 x 43 x 11 ft
-
-
280
450
-
-
-
Columbia West

8.163
94 x 144 x 11 ft
-
-
650
700
-
-
-

Columbia 1


975
32 x 30 x 11 ft
551/34
98
60
112
24
30
38

Columbia 2


908
29 x 30 x 11 ft
51/34
98
60
104
24
30
38

Columbia 3


908
29 x 30 x 11 ft
51/34
98
60
104
24
30
38

Columbia 4


916
30 x 30 x 11 ft
51/34
98
60
105
24
30
38

Columbia 5


1,677
61 x 28 x 15 ft
102/74
210
120
193
50
53
62

Columbia 6


1,624
59 x 28 x 15 ft
101/74
210
120
187
50
53
62

Columbia 7


1,678
61 x 28 x 15 ft
101/74
210
120
193
50
53
62

Columbia 8


1,625
59 x 28 x 15 ft
101/74
210
120
187
50
53
62

Columbia 9


975
32 x 30 x 11 ft
51/34
98
60
112
24
30
34

Columbia 10


908
29 x 30 x 11 ft
51/34
98
60
104
24
30
34

Columbia 11


908
29 x 30 x 11 ft
51/34
98
60
104
24
30
34

Columbia 12


916
30 x 30 x 11 ft
51/34
98
60
105
24
30
34
Columbia 1-12
15,218
120 x 128 x 11-15 ft
-
1,690
1,440
1,749
-
-
-
Columbia 1-4
3,707
120 x 30 x 11 ft
216/144
400
220
426
-
-
-
Columbia 1-6
7,008
120 x 58 x 11-15 ft
432/288
860
480
456
-
-
-
Columbia 5-8

7,804
120 x 65 x 15 ft
462/308
910
560
897
-
-
-
Columbia 7-12
7,010
120 x 58 x 11-15 ft
456/304
890
480
806
-
-
-

Columbia 1 & 2


1,883
61 x 30 x 11 ft
108/172
220
120
216
50
56
66

Columbia 3 & 4


1,824
59 x 30 x 11 ft
108/72
220
120
216
50
56
66

Columbia 5 & 7


3,955
61 x 65 x 15 ft
252/168
450
300
455
50
68
84

Columbia 6 & 8


3,849
59 x 65 x 15 ft
252/168
450
300
442
50
68
84

Columbia 9 & 10


1,883
61 x 30 x 11 ft
108/72
330
120
216
50
57
66

Columbia 11 & 12


1,824
59 x 30 x 11 ft
108/72
220
120
216
50
57
66

Columbia 1,2 & 5


3,560
61 x 58 x 11-15 ft
216/144
440
240
409
-
-
-

International Ballroom (IBR)


29,631
245 x 145 x 30 ft
1,820/1,200
4,050
2,670
4,117
-
-
-
IBR Center
17,953
115 x 145 x 30 ft
1,200/800
2,200
1,630
2,300
-
-
-
IBR East
5,893
130 x 65 x 27 ft
330/220
745
520
800
-
-
-
IBR West
5,785
130 x 65 x 27 ft
330/220
745
560
800
-
-
-

IBR East & Center


23,846
165 x 180 x 30 ft
1,530/1,020
2,945
2,180
3,100
-
-
-

IBR West & Center


23,738
165 x 180 x 30 ft
1,530/1,020
2,945
2,180
3,100
-
-
-

Cabinet


1,443
38 x 40 x 10 ft
84/56
150
90
166
132
34
48

Georgetown


2,576
72 x 41 x 10 ft
171/114
284
220
296
64
50
64

Georgetown West


1,274
36 x 41 x 10 ft
84/56
140
110
146
34
42
54

Georgetown East


1,294
36 x 41 x 10 ft
87/58
144
110
149
30
34
50

Crystal Ballroom (Jefferson, Lincoln, & Monroe)


8,655
234 x 42 x 10 ft
540/160
1,050
840
1,150
174
-
-

Jefferson


3,461
96 x 42 x 10 ft
240/160
500
340
460
70
74
84

Jefferson West


1,747
48 x 42 x 10 ft
120/80
250
160
230
34
52
64

Jefferson East


1,719
48 x 42 x 10 ft
120/80
250
160
230
34
52
64

Jefferson East & Lincoln


5,196
144 x 42 x 10 ft
345/230
715
500
600
100
122
144

Jefferson East & Lincoln West


3,471
96 x 42 x 10 ft
240/160
500
340
460
70
74
84

Jefferson East, Lincoln, & Monroe


6,913
186 x 42 x 10 ft
460/310
950
630
800
-
-
-

Jefferson & Lincoln


6,938
192 x 42 x 10 ft
460/310
950
630
800
-
-
-

Jefferson & Lincoln West


5,213
144 x 42 x 10 ft
345/230
715
500
600
100
122
144

Lincoln


3,477
95 x 42 x 10 ft
240/160
500
340
460
70
74
84

Lincoln West


1,725
48 x 42 x 10 ft
120/80
250
160
230
34
52
64

Lincoln East


1,725
48 x 42 x 10 ft
120/80
250
160
230
34
52
64

Linoln East & Monroe


3,442
90 x 42 x 10 ft
240/160
500
340
460
70
74
84

Lincoln & Monroe


5,194
138 x 42 x 10 ft
345/230
715
500
600
100
122
144

Monroe


1,717
46 x 42 x 10 ft
120/80
250
160
230
34
52
64

Concourse Foyer


7,265
197 x 52 x 9'3 ft
-
-
-
1,000
-
-
-

Convention Office 1


120
10 x 12 x 9'3 ft
-
-
-
-
-
-
-

Convention Office 2


126
10 x 12'8 x 9'3 ft
-
-
-
-
-
-
-

Convention
Office 3


170
17 x 10 x 9'3 ft
-
-
-
-
-
-
-