XV Beacon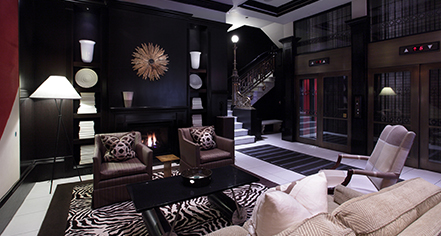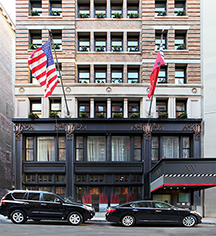 History
XV Beacon Hotel's turn-of-the-century Beaux Arts building was designed by architect William Gibbons Preston and built in 1903. However, its foundation dates prior to the American Revolution. Merchant Edward Bromfield, described posthumously as an "uncorrupted patriot," erected his three-story mansion on Beacon Street in 1722. The mansion and hill where it stood was levelled in 1845 and the property was divided into two lots, 13 and 15 Beacon Street. In 1870, the site was marked by the Freeman Place Chapel and the adjoining houses.
In 1903, the Beacon Hill Trust erected a ten-story building on the site. The Beaux Arts building was designed by prominent architect, William Gibbons Preston, and featured two cast iron stories ornamented with gilded shields, and a third story limestone band supporting upper levels of Roman brick. Preston's other notable projects include the Massachusetts Institute of Technology's Rogers Building, the Claflin Building at 20 Beacon Street (originally the Boston University School of Religious Education and Social Service where Alexander Graham Bell taught), and the Boston Society of Natural History museum on Berkeley Street.
The first tenants at 15 Beacon Street were the developers of the nation's first subway: the Boston Transit Commission, occupied since 1905, and the Rapid Transit Commission, occupied since 1906, and remained until 1918 when the commission was officially terminated. In 1920, the building was taken by eminent domain by the City of Boston from the Beacon Hill Trust and was occupied by the Boston School Committee beginning in 1923, for the next 75 years, until the city sold the building in 1998.
The building became XV Beacon Hotel in 1999 and was added to the National Register of Historic Places in 2007. Distinguished by its outstanding art collection, the hotel is a hidden gem in the Boston arts and culture scene. Greeting guests in the lobby is Jules Olitski's joyful "Green Dot" canvas. Olitski, a Russian-born post-painterly abstractionist, has been recognized as one of the century's brightest talents by Architectural Digest magazine. Included in the collection are specially commissioned works by portraitist Gilbert Stuart, contemporary abstract painter Maggi Brown, Martha Lloyd, Joe Greene, Tony Evanko, Ben Freeman, and other artists whose works are featured in guestrooms and throughout the hotel. In Mooo…. restaurant's The Wine Cellar, a charming Roman mosaic dating from the fourth to fifth century A.D. depicts two cavorting deer amidst flowers, amphorae, and fish. Today's XV Beacon is a luxury boutique hotel conveniently located in historic Beacon Hill, offering incomparable amenities in lavish accommodations.

XV Beacon, a member of Historic Hotels of America since 2016, dates back to 1903.