Zion Lodge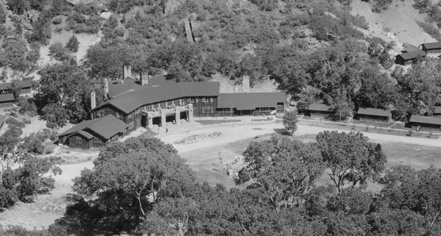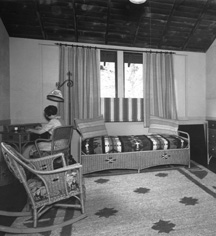 History
1863 – Issac Behunin built the first log cabin in Zion Canyon, near the future location of the Zion Lodge. Soon the canyon was dotted with other homesteads, including that of William Crawford, near Oak Creek.
1909 – A presidential Executive Order designated Mukuntuweap (Zion) National Monument, in Zion Canyon. Construction began in this area for the state highway system, making it possible for tourism.
1917 – Touring cars could finally reach Wylie Camp, a tent camping resort that comprised the first visitor lodging in Zion Canyon.
1919 – A Congressional bill designating Zion National Park was signed into law.
1924 – Zion Lodge was designed and built by Gilbert Stanley Underwood.
1927-29 – Guest Cabins and Employee housing built.
1966 – A fire destroyed the original lodge. It was rebuilt within 100 days, but the original rustic look was lost in favor of expedience in reopening the lodge.
1990 – A remodel restored its original design.
1995 – A landslide blocked the Virgin River downstream from the lodge. A one-lane temporary road was constructed within 24 hours to allow evacuation. Access to the lodge was restored on May 25, 1995.
For more information about Zion Lodge or to make reservations please visit zionlodge.com or call 1.888.29.PARKS (888.297.2757).


Zion Lodge, a member of Historic Hotels of America since 2012, dates back to 1924.