Benbow Inn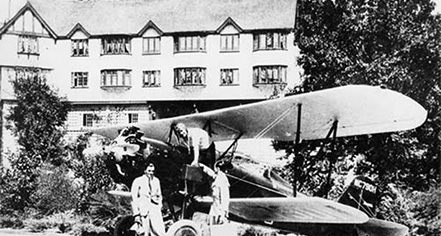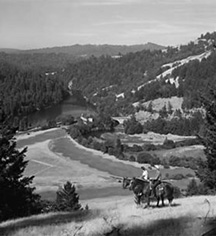 History
When Arthur Benbow purchased the 1,288 acres from Ernest Linser in 1922, he envisioned a ranch but it soon became apparent that ranching would not be sufficient to meet the family's needs. Instead, the family decided to build the resort hotel, golf course, and riding stables. Today, the hotel and golf course are still operating but the riding stables burned down in the 1950s. The children of Mr. Benbow were Joseph, Evangeline, Burtis, Clara, Helen, Jessie, Loleta, Walter, and Robert—eight of the children were born in Humboldt County.
When opened on July 17, 1926, the Inn was originally called the Hotel Benbow. Electricity for the hotel originally came from two diesel generators until a dam and powerhouse was completed on the South Fork of the Eel River around 1930. This was also the first source of power for the town of Garberville.
The hotel soon became a popular destination for motoring tourists traveling up the Redwood Highway. The combination of seclusion and elegant hospitality served as quite an attraction for the Hollywood elite: Spencer Tracy, Clark Gable, Alan Ladd, Charles Laughton, Joan Fontaine (who honeymooned with two different husbands), and Basil Rathbone were all patrons of the Inn, as well as dignitaries Eleanor Roosevelt and President Herbert Hoover. The most recent celebrity guest was the King of Jordan.
The Benbow family sold the hotel in 1962 and each of the four subsequent owners has added many personal touches and improvements while preserving as much of the original historic character as possible.
John and Teresa Porter and Jack Macdonald purchased the Inn in 1994, bringing over fifty years of inn keeping experience with them. They have continued to upgrade and restore the Inn, including this years $600,000 guestroom and hallway improvements.
Benbow Inn was listed on the National Register of Historic Places in 1983.

Benbow Inn, a member of Historic Hotels of America since 2014, dates back to 1926.