Benbow Inn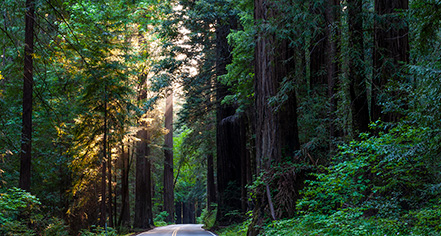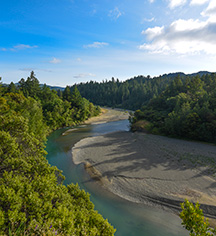 Local Attractions
Avenue of the Giants
This world-famous scenic drive is a 31-mile portion of old Highway 101, which parallels the current Freeway 101 with its 51,222 acres of redwood groves. It is, by far, the most outstanding display of these giant trees in the entire 500 mile redwood belt and is accessible to all with convenient services provided along the way. The Avenue of the Giants is surrounded by Humboldt Redwoods State Park which has the largest remaining stand of virgin redwoods in the world. Take time to picnic, hike, swim, fish, raft, or bike ride in the cool hush of these ancient redwood forests.
King's Range
The King Range National Conservation Area covers 68,000 acres and extends along 35 miles of coastline between the mouth of the Mattole River and Sinkyone Wilderness State Park. Here the landscape was too rugged for highway building, forcing State Highway 1 and U.S. 101 inland. The remote region is known as California's Lost Coast, and is only accessed by a few back roads. The recreation opportunities here are as diverse as the landscape. The Douglas-fir peaks attract hikers, hunters, and mushroom collectors, while the coast beckons to surfers, anglers, beachcombers, and abalone divers to name a few.
Shelter Cove
A quiet fishing village nestled in the mountainous forests of the Lost Coast. Spend an afternoon walking on the Black Sands Beach or exploring tide pools. Shelter Cove also offers a landing strip for private aircraft, golfing, hiking, and fishing.
Ferndale
Explore the historic Victorian Village of Ferndale, just a short drive north of the Avenue of the Giants. Enjoy magnificently preserved Victorian architecture and pick up visitor information from any shop. On the National Register of Historic Places, Ferndale's Main Street is a photographer's paradise and a shopper's delight.
Chandelier Drive-Thru Tree
Drive-Thru Tree Park is a privately-owned grove that has been operated by the Underwood Family since 1922. Located approximately 180 miles north of the San Francisco Bay Area, the park was an ideal stopping place for overnight or week-long stays. In 1937 the Chandelier Drive-Thru Tree was added to provide a unique treat for travelers. Visitors have been taking pictures of their vehicles inside the opening ever since.
Confusion Hill
Campbell Bros. Confusion Hill in the beautiful Northern California Redwoods is a Northern California tourist attraction that has been the home of mystery, fun, and family entertainment since 1949. As of January, 2010, Confusion Hill is now listed as a California State Point of Historical Interest. There is the World Famous Gravity House; the Redwood Shoe House; the Ripley's Believe It or Not "World's Tallest Free Standing Redwood Chainsaw Carving;" and the unique miniature Mountain Train Ride to enjoy.