Benbow Inn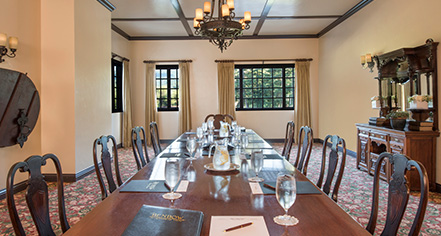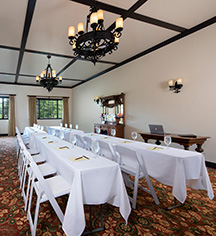 Meetings & Groups
The historic Benbow Inn offers the ideal space for meetings, groups, corporate retreats, workshops, conferences, planning sessions, and banquets. In addition to luxurious accommodations, superb amenities, and exceptional service, the Inn offers both indoor and outdoor group and event space, ranging from 650 to 4,500 sq. ft. All group and meeting areas can be arranged into custom layouts to accommodate up to 200.
The Inn provides intuitive service and a wide array of flexible choices. With numerous food and beverage offerings from the Inn's full-service restaurant, sophisticated catering options will satisfy any group or meeting objective. Events are managed by a talented team of committed professionals to ensure every event meets, and exceeds, the expectations of the group.
The Bellows Room | Floor Plan
With historic details and windows facing the beautiful southern view of Reed Mountain, this ideal venue provides a cozy and intimate space for receptions. Whether planning an Executive Conference or Social Engagement, the Bellows Room will impress all guests.
The Library | Floor Plan
The Library is an intimate, serene room decorated with antiques and rare books. It is the perfect space for a smaller meeting or elegant dinner for up to 50 guests. Its location adjacent to the Registration Lobby makes it convenient to all guestrooms at the Inn.
The Terrace | Floor Plan
This perfect venue creates the backdrop for an unforgettable event. Whether a romantic wedding or inspiring corporate event, Benbow Historic Inn offers the finest combination of natural beauty and stylish settings.
The Lawn
The Lawn is a stunning outdoor/indoor venue to host a wedding, with the Benbow Historic Bridge and Eel River as its backdrop. Dining outdoors on the expansive Terrace allows reception guests to take in breathtaking views.
The Upper Lobby
Benbow Historic Inn's unique, enchanting atmosphere invites guests to relax, renew, and savor life's pleasures. Surrounded by tree covered mountains and giant Redwood forests, its marvelous woodwork, stonework, and gardens make Benbow Inn the destination wedding spot or corporate retreat. When guests step in the Upper Lobby, they are taken back to the 1920s and 1930s, a step back in time. The Lobby is filled with old world grandeur and is a magical location for any reception. The use of the Upper Lobby requires a hotel buyout of its 65 guestrooms.
The Front Porch
The "Front Porch" is historically a transitional space between the cocoon of home and the cacophony of the outside world. The "porch" has always been the place where a great deal happens, where neighbors gather and share a glass of lemonade and conversation. Benbow Historic Inn's Front Porch continues this tradition and offers a comfortable space where guests meet and mingle and enjoy each other, the view, and a glass of local wine or beer. The Front Porch is perfect for a welcome reception and to kick start the weekend's festivities.